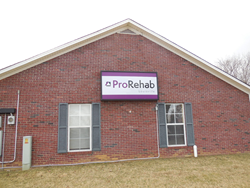 'We had numerous requests from employers and friends in the area that were looking for a locally owned, private practice option and we look forward to demonstrating our clear differentiation in physical therapy to Fern Creek,' - Dr. Larry Benz
Louisville, KY (PRWEB) February 23, 2015
ProRehab Louisville is proud to announce the opening of its second clinic this week, conveniently located at 6610 Bardstown Road, in Fern Creek.
The clinic, which formerly operated under the Star Physical Therapy name, joins the first ProRehab Louisville location in Chenoweth Square, signaling the rapid growth of a locally owned company that is a prominent leader in the physical therapy industry and currently operates 10 award-winning clinics in the Bowling Green, KY, and Evansville, IN regions. Additional locations will be announced in the coming weeks.
ProRehab Louisville's friendly, caring therapists make it their mission to provide kind, compassionate, and positive physical therapy to each and every patient throughout the course of their care. The Bardstown Road location will offer manual physical therapy, orthopaedics, spine care, and trigger point dry needling to patients, among other services, and the clinic's therapists will specialize in wellness and fitness, cardiac therapy, hand therapy, and sports medicine. ProRehab Louisville's concierge model of physical therapy, which provides enhanced benefits for its enrollees, will also be available to Fern Creek patients.
"We are proud to add this location and become part of the Fern Creek community. We had numerous requests from employers and friends in the area that were looking for a locally owned, private practice option and we look forward to demonstrating our clear differentiation in physical therapy to Fern Creek," said ProRehab Louisville President and CEO Larry Benz, PT, DPT, MBA, OCS. "We welcome the opportunity to bring our national reputation in sports medicine services to our affiliation with Fern Creek High School, as well."
To book an appointment at the Fern Creek clinic, please call 502.762.1243.
A ribbon cutting ceremony and reception to celebrate the Grand Opening of ProRehab Louisville will be held February 26, 2015 at the Chenoweth clinic to mark the company's grand opening. For more information about the event, the new clinic, or ProRehab Louisville's services and offerings, please call 502.533.3720.
About ProRehab Louisville:
Founded in 1999, ProRehab is a locally owned private physical therapy practice with over 15 years of experience as one of the region's preeminent providers of outpatient physical therapy. Our therapists are charged with providing long-lasting outcomes without surgery, medication, or diagnostic imaging to our patients in the Louisville, Evansville, southwest Indiana and western Kentucky areas. ProRehab Louisville's clinicians have a wide range of clinical expertise in manual physical therapy, spine care and rehabilitation, general orthopaedic conditions, sports specific injuries, workplace injuries and much more. 100% of our expert practitioners are either board certified or in the process of completing advanced residency, fellowship, or clinical mentoring programs, allowing them to provide the highest standard of care to our patients. Our friendly, caring therapists take their patients' care personally and are always on standby to offer support. Attuned to the latest evidence-based clinical, service, and compassion research, we combine Clinical Excellence and AmaZing! Customer Service with empathy, compassion, and positivity and incorporate them into our mission of keeping our patients healthy and out of the costly, depersonalized healthcare system. For more information, find ProRehab Louisville on Facebook, or @ProRehabLou on Twitter and Instagram.
###