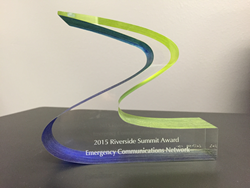 ECN was given special recognition for being the top performing mature investment in its fund family.
Ormond Beach, FL (PRWEB) February 23, 2015
Emergency Communications Network (ECN), North America's largest and most trusted provider of mass notification solutions, was presented with a 2015 Riverside Summit Award in February during the 2015 Riverside Leadership Summit (RLS) in Houston. ECN was given special recognition for being the top performing mature investment in its fund family.
Among the statements made by the Co-CEOs of Riverside, ECN was recognized for its growth since the company was purchased in October 2011, both organically and via acquisition. This success was partially due to six add-on acquisitions in three years that strengthened ECN's position in core markets, improved human capital and broadened geographical reach. ECN increased client retention rates by 6%, leading to recurring revenue of 99%. As a result, sales nearly doubled since 2011—an organic sales growth of more than 10% per year.
The RLS was attended by 350 guests including portfolio company CEOs, CFOs, lead sales personnel, outside directions and senior Riverside professionals.
About Emergency Communications Network
Headquartered in Ormond Beach, Florida, Emergency Communications Network, LLC (ECN) has pioneered high-speed notification services capable of reaching millions of people in minutes. ECN's sophisticated network supports a Web-based product suite featuring the following services: CodeRED®, which enables local government officials to communicate time-sensitive, personalized messages in a multimodal approach; CodeRED Weather Warning™ which provides automated alerts to people in the path of severe weather just moments after a warning has been issued by the National Weather Service; Code-ED® for use by school systems to improve communications with their communities; SmartNotice™, a business continuity and staff notification solution and MyDailyCall™ for scheduling calls to check on at-risk individuals, including the elderly, infirm and latchkey kids.
About Riverside Leadership Summit
The annual Riverside Leadership Summit is the cornerstone Riverside University event. Bringing together over 300 executives and Riversiders from around the globe, Riverside Leadership Summit spans two days, providing intensive training in management tactics and strategies. The curriculum is driven by executive management teams and focuses on growth-oriented topics, while fostering the exchange of ideas and providing valuable networking opportunities.
About The Riverside Company
The Riverside Company is a global private equity firm focused on acquiring and investing in growing businesses valued at up to $250 million (€200 million in Europe). Since its founding in 1988, Riverside has invested in more than 370 transactions. The firm's international portfolio includes more than 75 companies.