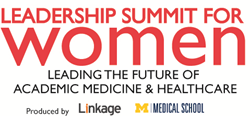 Ann Arbor, MI (PRWEB) February 24, 2015
Linkage, a global leadership development firm, will hold an unprecedented leadership development summit outside Ann Arbor, MI, on March 30th. While women outnumber men in the academic medicine and healthcare industries, men still hold the majority of senior leadership roles. The Leadership Summit for Women: Leading the Future of Healthcare and Academic Medicine is a preliminary step in tipping that scale—providing skills, networking, and dialogue to help accelerate women into leadership positions. More than 400 women from across the United States are expected to attend the inaugural event.
"I can tell you from firsthand experience that the lack of female leaders in the industry is a very real problem," says Margaret Gyetko, M.D., Senior Associate Dean at the University of Michigan Medical School and Summit co-chair. "As a physician, and as a dean, I have been the only woman in the meeting or at my level for most of my career. I wish I had an opportunity early on to look up and see other women leading the way, to ask questions and learn from them. This gives women that chance. The summit will play a pivotal role in changing the look of leadership in both industries now and into the future."
The Leadership Summit for Women: Leading the Future of Healthcare and Academic Medicine is a one-day leadership development program designed to address the specific leadership needs of women in the industry. Attendees will experience:

In-depth training on effective negotiation skills, leadership presence, and critical competencies for accelerating women leaders
Access to a world-class keynote faculty including Amy Cuddy, PhD, Social Psychologist at Harvard Business School; Paula Johnson, MD, Chief of the Division of Women's Health at Brigham and Women's Hospital; and award-winning journalist and documentarian Soledad O'Brien
The opportunity to meet, network, and share best practices with more than 400 peers in academic medicine and healthcare
Sponsors include local Beaumont Health Systems and the University of Michigan, who were early supporters and sponsors of the Summit. Learn more about this year's inaugural event at http://www.linkageinc.com/medicalsummit.
Linkage works with leaders and leadership teams worldwide to build organizations that produce superior results. For over 25 years, we have delivered on this promise by strategically aligning leadership, talent, and culture within organizations globally. Linkage offers strategic consulting on leadership development and talent management topics, learning institutes, skill-building workshops, tailored assessment services, and executive coaching.