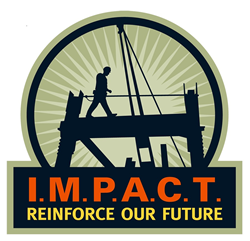 "Our aim is to make sure all workers come home safely each day," said Wise. "The Iron Workers and IMPACT are working toward...a goal of zero safety incidences."
Washington (PRWEB) February 24, 2015
The Iron Workers, the Ironworker Management Progressive Action Cooperative Trust (IMPACT) and the Board of Certified Safety Professionals (BCSP) established a collaborative partnership to advance safety among those working in the trade in the United States and Canada. IMPACT Labor Co-Chairman, Walter W. Wise; IMPACT Management Co-Chairman, William W. Brown; and BCSP Board President, Cece Weldon, CSP, CHST, STS signed the agreement at the opening of the general session of the Ironworkers/IMPACT Annual Meeting February 24, 2015.
While the partnership is now official, all organizations involved have made previous commitments to worker safety. "Our aim is to make sure all workers come home safely each day," said Wise. "The Iron Workers and IMPACT are working toward making sure each ironworker, contractor and owner achieves a goal of zero safety incidences on every jobsite."
"BCSP looks forward to working together with IMPACT as part of this agreement, fostering greater safety practices among ironworkers," said Weldon. "Together, we will ensure these workers have the tools necessary to protect themselves on the job, so that they may always return home healthy to family and friends."
As part of the partnership agreement, BCSP and IMPACT have committed to using their collaborative efforts, expertise, technologies, and resources to provide competency-based certification to advance the safety of members and signatory contractor personnel, providing career opportunities and safe working conditions for ironworkers.
"This agreement presents our organization and its members with new opportunities," Wise said. "With this agreement, and the initiatives we take together, the Iron Workers, IMPACT and BCSP prove their commitment to safety," added Brown.
Each organization will work cooperatively through communication, outreach, and occupational safety and health development opportunities in several areas, not limited to: Sharing information on safety management systems, outlining the benefits of competency-based certifications, developing career opportunities, collaboration with project owners and regulatory agencies regarding the benefits of mandating certifications project safety requirements, and reaching out to service members and signatory contractors in remote areas of the US and Canada.