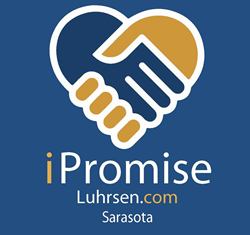 Sarasota, Florida (PRWEB) February 24, 2015
Statistics bear out what Luhrsen Law Group, an injury firm in Sarasota, has seen in its practice: an increasing number of drivers are multitasking behind the wheel…and that is causing more and more accidents. So, in addition to helping injured victims, the firm extended its Serving to Protect efforts by embarking on a campaign to reduce distracted driving among teens through its iPromise initiative. Over its two 2014 iPromise campaigns, the firm awarded over $10,000 in scholarship monies to the hundreds of area teens who took the iPromise pledge not to text and drive.
Its spring 2015 iPromise campaign, which kicks off this week, is once again aimed at getting teens to pledge not to text and drive. The firm emphasizes educating teens precisely because distracted driving is most prevalent among this group. To encourage high school educators to spread the word about the dangers of distracted driving among teens, the firm will award the top three area high schools with the most teens pledging with unrestricted grant monies (up to $1500). At the same time, the firm wants all drivers, of any age, to put their phones away; these drivers will be in the running for free iPads that the firm will give away. For Attorney Jeffrey Luhrsen, it's about prevention: "My firm would much rather educate the public, then represent someone hurt in a crash that was 100% preventable."
To learn more about Luhrsen Law Group's iPromise pledge campaign, go to http://www.Luhrsen.com and click on iPromise. Luhrsen Law Group, based in Sarasota, Florida, is proud to be a family-owned firm that serves Florida families by helping them recover after serious injuries and from legal wrongs and that protects Floridians through information designed to avoid preventable harm. Luhrsen Law Group, Serving to Protect. For more Information, contact Chief Operating Officer, Heather McKay, at 941-957-4878, ext 233, or HMcKay(at)Luhrsen(dot)com.