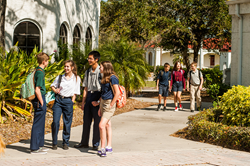 Florida Prep integrates the best elements from our school's history into exciting and ground-breaking opportunities
Melbourne, Fl. (PRWEB) February 25, 2015
Florida Air Academy (F.A.A), the Melbourne-based boarding and day school for boys and girls in grades 6-12, has announced the Academy will begin a transition to a new name, Florida Preparatory Academy. The school will be referred to as Florida Prep.
The Academy's program will shift from a military emphasis to college prep, with a focus on college acceptance, academic achievement, and student leadership.
Florida Air Academy President James Dwight spoke of the history behind the decision: "As we moved our focus away from a traditional 'military school' environment, we found it increasingly difficult to clearly describe ourselves to potential students, particularly those from overseas. Our graduates are accepted at some of the most prestigious colleges around the world, but very few have any desire to attend a military Service Academy or to pursue a military career. Students and parents alike struggled with our identity and purpose."
"Our name will now accurately reflect who we are," continues Dwight. ""Florida Prep" allows us to move forward without the constraints of mistaken stereotyping and gives both clarity and purpose to our name and mission.
"It is our intent to continue to offer an excellent AFJROTC program; however, it will now be an elective class, not mandatory as before. We will continue to encourage and promote leadership through a new 'Student Council' and through our summer 'Leadership School.' We will also begin to offer alternative accommodation options to our boarding school population with the introduction of 'Homestay,' a program we have tested to great success during the last few months.
"As both a parent and an educator," says Dwight, "the need to be creative and innovative is obvious. The world our children will inherit is more complex, interconnected and unpredictable than ever before. Florida Prep integrates the best elements from our school's history into exciting and ground-breaking opportunities for our students in the future," he concluded.