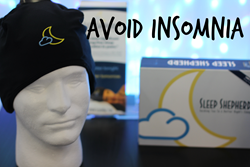 This has been the solution that I've spent years looking for!
(PRWEB) February 23, 2015
"Sleep Shepherd" was featured on NewsWatch as part of its monthly Tech Report, which takes a look at the latest and coolest technology products and services available to consumers. Scott Steinberg, a special reporter for NewsWatch and a technology expert, conducted the review and shared with viewers how this is an all-natural, drug-free solution to getting better sleep.
According to the National Institute of Neurological Disorders and Stroke, 60 million Americans have some sort of sleep problem. And because of this problem, 59 billion dollars is annually attributed to lost productivity due to lack of sleep. Dr. Michael Larson acknowledged this problem and created an all-natural, drug-free solution for his daughter who has a sleep disorder.
The Sleep Shepherd plays special tones into the ears that takes advantage of brain structures that interpret the direction of sound. The tones coax the wearer's brainwaves to slow down, basically lulling the brain to sleep. There are sensors in the cap – two on the ears, one on the forehead that read the wearer's brainwaves. So it not only monitors a person's brain activity level, but also puts the user to sleep, all while accurately measuring the results.
The cap itself is made of a comfortable, dry-fit, stretchy material that's very lightweight - so no need to worry about lack of comfort. Sleep Shepherd will be coming out with an app and Bluetooth version in the summer of 2015. But for now, the self-contained Sleep Shepherd is available for $149.00 online.
To learn more, visit http://www.sleephat.com
About NewsWatch
NewsWatch is a weekly 30-minute consumer oriented television show that airs on the History Channel, FYI Network, and ION Network. NewsWatch regularly features top technology products and services, mobile applications for iOS, Android, and Windows devices, unique and beautiful travel destinations around the world, health and medical tips, and entertainment interviews on the show. NewsWatch airs on the History Channel at 6:00 – 6:30 AM ET/PT and on the FYI Network from 7:00 – 7:30 AM ET.
NewsWatch is located in the greater Washington, DC area and has been on the air for over 25 years. For more information or to watch the most recent episode, visit http://newswatchtv.com/tech-report.html.