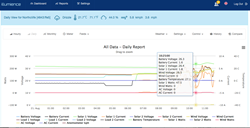 Toronto, ON (PRWEB) February 25, 2015
– Clear Blue Technologies Inc., the Smart Off-Grid company, announced today their new Illumience™ Cloud software for the remote management and control of off-grid devices such as outdoor lighting, security, telecom, mobile and environmental systems. With Clear Blue's Smart Off-Grid Controller and Illumience, mission critical systems can be powered by the sun and wind while achieving an unprecedented level of performance and reliability and a reduction in maintenance costs of up to 80%.
A growing number of manufacturers are incorporating Clear Blue's technology into their products to provide reliable off-grid options, drive down the cost of maintenance and differentiate themselves in the market. Illumience enables these vendors or their customers to remotely control, maintain and service their off-grid systems over the Internet from a computer or smartphone.
Key new features of Illumience include:

Predictive weather analysis: This powerful capability will estimate energy generation for the following six days based upon current load and local forecasts and will proactively make recommendations to conserve battery life. Administrators will also receive automatic notification of upcoming adverse weather events.
Roles-based administration: This allows for a wide variety of roles and privileges so system providers can easily support all their customers while individual customers can access only their own systems.
Customized branding – OEMs who integrate Clear Blue technology into their own products can now have their own branded Illumience Web portal including vanity URL, customized colors and corporate logo.
New provisioning system and simplified user administration– The process of enabling secure user access has been simplified, including the ability to enable via email or SMS for a specified period of time, which is useful during system installs for example.
Enhanced alarms and alerting -Each user can now set a variety of alarms to apply to all their systems or to a specific system, and can specify whether to send via email or SMS. Alarms can monitor system communications, short circuit, LVD, LVR, temperature, or any voltage / current reading for any port on the system.
Streamlined administration and enhanced reporting – System templates and modifications to lighting profiles and other attributes can now be easily applied across multiple systems. Reports can now be printed and downloaded and users can set customized reporting periods.
Multi-language support –Illumience will be available in Spanish, German and French in addition to English in order to support international customers.
"Clear Blue's remote management and control software is unique in the industry, and delivers the high reliability, performance and cost reductions needed to make off-grid systems a real alternative to electricity-powered devices," said Mark Windrim, Chief Technology Officer of Clear Blue Technologies. "The new Illumience software extends our capabilities with predictive intelligence, streamlined administration and control and other features that bring the power of Smart Off-Grid to an ever-growing list of products in the market."
About Clear Blue Technologies
Clear Blue Technologies, the Smart Off-Grid Company, combines green energy systems with the proven advantages of communications and cloud technology to power high performance off-grid lighting, security and mobile solutions. The company's hybrid controller harvests energy from solar panels and wind turbines and is designed to be easily integrated into a variety of products to deliver highly reliable off-grid alternatives. The Illumience cloud-based software provides real time monitoring and control over the Internet from any PC or smartphone, delivering unmatched reliability and performance. Clear Blue's Illumient division delivers high performance off-grid lighting systems. Learn more at http://www.clearbluetechnologies.com