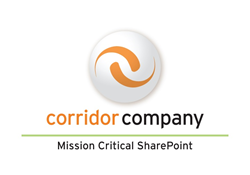 Our efforts to drive value within VSP procurement have been matched by Corridor's commitment to delivering immediate business results. Greg Tennyson, VSP Global
Wakefield, MA (PRWEB) February 25, 2015
Corridor Company, Inc., the leading provider of contract lifecycle management software powered by the SharePoint platform, is pleased to announce the successful deployment of its Contract Management Business Application for SharePoint, CM[.app], by VSP, a global business and the largest not-for-profit vision benefits and services company in the United States. VSP's procurement and legal teams are now using Corridor's solution for their indirect procurement contract process - from contract creation, review and approval, to post-execution obligation tracking.
As part of a process improvement initiative aimed at introducing efficiencies, improved vendor management, and downstream cost savings, CM[.app] was selected as VSP's contract lifecycle management platform. CM[.app] provides a central electronic repository for VSP's procurement contracts, an electronic email approval system to support VSP's multi-faceted approval process, integration with DocuSign for electronic signature, and post execution tracking and management of contractual obligations.
Approaching the implementation from a "Business Release" perspective with the intent of delivering a working system with immediately realizable benefits, VSP's procurement and legal teams worked closely with Corridor to deploy the desired functionality. Implemented and in productive use within twelve weeks of project inception, Business Release 1 focused on contract creation, approval workflow, contract search and reporting, and external email collaboration from a secure repository. Business Release 2 which included workflow metrics reporting went live within the following eight weeks.
"Our efforts to drive value within VSP procurement have been matched by Corridor's commitment to delivering immediate business results. The product depth, implementation methodology and ongoing support have provided a tool that will readily allow us to achieve our vision," said Greg Tennyson at VSP Global.
Russ Edelman, CEO of Corridor, states, "From the onset in working with VSP, we found a practical and achievable vision on what contract management is about within the realm of procurement. Greg Tennyson and his team shared their perspective on their requirements and through a collaborative effort, we were able to deliver a comprehensive solution that will support VSP in their strategic vision. VSP and the team led by Greg are truly a pleasure to work with, and we look forward to a continued success with the team."
About VSP Global
VSP Global® unites industry-leading businesses to bring the highest quality eye care and eyewear products and services to help people see across the globe. VSP Global businesses include not-for-profit VSP® Vision Care, the largest vision care company with 75 million members and a network of nearly 32,000 eye doctors in the U.S., Australia, United Kingdom, Canada and Ireland; Marchon® Eyewear Inc., one of the three largest global manufacturers, designers and distributors of quality fashion and technologically advanced eyewear and sunwear; Eyefinity®, the largest EHR and premier practice management software company for the eye care industry; VSP Optics Group, industry leaders in new lens technologies, production processes, service and logistics; and VSP Retail, delivering a memorable consumer experience through a variety of channels that meet the diverse needs of VSP customers. VSP Global businesses operate in 100 countries on 6 continents.
About Corridor Company
Corridor Company is committed to continually evolving our software product line to meet the challenges of contracts and their proper management. With a business application platform that readily provides solutions for Contract, Proposal and Supplier Management, Corridor's end-to-end solutions enable customers to create contracts and proposals more efficiently, manage all processes more effectively, and ensure that revenue, profit and compliance are all fully optimized. Corridor's flexible licensing model, supporting implementation packages, and delivery options which include on premises, in the Cloud, or Office 365, ensure a solution tailored to fit the needs of your company. To learn why global to mid-sized clients choose Corridor as their Contract Management partner, visit http://www.corridorcompany.com.
Media Contact:
Dermot Whittaker
781-229-9933 ext. 15
info(at)corridorcompany(dot)com