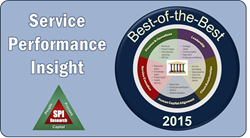 Our team takes great pride in truly partnering with companies to not only make them more successful, but to make them more self-sufficient. - Vivian Keena, Alternative CEO
Aliso Viejo, CA (PRWEB) February 24, 2015
Alternative Technology Solutions, the leading ERP and CRM solution and service provider that brings the best of the cloud to manufacturers, today announced that it has ranked seventh among professional services organizations in Service Performance Insight's (SPI) 2015 listing of best-of-the-best firms.
"Alternative was built as a services company that delivered an alternative to the services customers were used to getting from their ERP and CRM vendors," said Vivian Keena, Alternative CEO. "Service is an essential part of who Alternative is and what drives us to solve our customers' problems. It's a wonderful accomplishment and honor to be named among SPI's top 5% of professional services organizations."
Each year, SPI conducts an in-depth analysis of hundreds of professional services organizations, based on five service performance criteria: leadership, client relationships, human capital alignment, service execution and finance and operations. The top 5 percent of firms that significantly outperform the benchmark average are named the 'Best-of-the-Best'.
"Our team takes great pride in truly partnering with companies to not only make them more successful, but to make them more self-sufficient," Keena explained. "Our greatest success comes from our customers being able to better use the technology in which they've invested. Whether it's implementing Salesforce, upgrading legacy ERP platforms, or integrating the systems they need to use every day, we're committed to helping customers get more ROI and usability from technology."
Although Alternative is aggressively growing the solutions side of its business with applications including Connect Integration and iQ Configure, Price, Quote, Keena doesn't foresee any changes in Alternative's commitment to high-quality professional services. "Alternative will always have service at the heart of everything we do," Keena said. "We intend to grow all of our consulting groups in 2015, as well as continue to refine our methodology and toolset so that our customers continue to receive exemplary service from the Alternative team."
About SPI Research
Service Performance Insight (SPI) is a global research, consulting and training organization dedicated to helping professional service organizations (PSOs) make quantum improvements in productivity and profit. In 2007, SPI developed the PS Maturity Model™ as a strategic planning and management framework. It is now the industry-leading performance improvement tool used by over 10,000 service and project-oriented organizations to chart their course to service excellence. http://www.spiresearch.com
About Alternative Technology Solutions
Alternative Technology Solutions, Inc. brings the best of the cloud to manufacturers and distributors through solutions and services that help companies work smarter and faster. Headquartered in Aliso Viejo, CA, the company also has offices in Boston, Chicago, Indianapolis, and Monterrey, Mexico. Alternative is a two-time Inc. fastest-growing company, was highlighted on CIO Review's annual list of Most Promising Manufacturing Tech Solution Providers, and was named a Best-of-the-Best service provider by SPI Research.