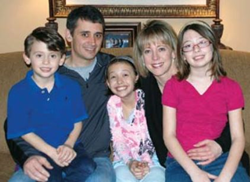 My goal in life is to put an end to this horrible disease for those that I love and all others that are struggling with this on a daily basis.
Livonia, MI (PRWEB) March 24, 2015
"There are times when you want to close your eyes and hope it was all a bad dream," said Jody Nissan, reflecting on the difficulties of living with HHT, a genetic disease that affects her husband and two of her three children.
Sitting back, and letting HHT beat her family, though, is simply not an option. The only option, is to fight for a cure.
"When HHT digs its claws in your family, it can turn your world upside down financially, physically and emotionally," Jody said. "I know a cure is out there; we just have to raise the money and keep pushing ahead."
The difficulty of HHT is often in the diagnoses because many of the symptoms masquerade as other conditions that are more common. Even more trying though is that symptoms rarely appear in the same way from person to person.
Cure HHT is the only nonprofit organization in the world committed to bringing together international thought leaders, working collaboratively to find a cure for HHT. Cure HHT is also the sole provider of HHT education programs and resources for patients and physicians worldwide.
Jody and her family have raised more than $100,000 for Cure HHT over the past two years through their annual Night of Hope gala event. This year, the Nissan clan is hoping to match that amount, and move the needle that much closer to a cure.
What: Night of Hope
When: 6 p.m., March 27
Where: Laurel Manor, 39000 Schoolcraft, Livonia, MI
What is HHT?
HHT is a genetic disorder that causes malformed blood vessels leading to unexpected and severe bleeding throughout the body. Symptoms include nosebleeds, fatigue, seizures, pain and swelling, intestinal bleeding, anemia, artery malformations and stroke.
For more information or to schedule an interview with Jody or her family, contact Christine Kirkley at christine(dot)kirkley(at)curehht(dot)org or 410-357-9932.