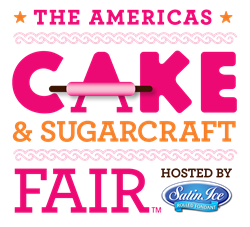 Orlando, Fl. (PRWEB) February 23, 2015
Satin Ice– a world-industry leader in premium rolled fondant, established in more than 65 countries – is hosting The Americas Cake & Sugarcraft Fair (TACSF) September 18, 19, and 20 at the Orange County Convention Center in Orlando, Fl. The highly anticipated show is expected to attract 30,000 trade professionals and cake enthusiasts – including many from the bakery, pastry and in-store supermarket cake industries – and more than 150 exhibitors in its inaugural year.
The international cake and sugarcraft expo – open to both trade and the public – will feature a jam-packed schedule of lively stage demonstrations; cake competitions and displays; a sugar arts fashion show with edible ensembles; and hands-on classes taught by the world's best cake decorators. Attendees will also be treated to multi-day appearances by celebrity guests like Buddy Valastro, star of TLC's "Cake Boss;" Roland Mesnier, former executive pastry chef to the White House; Mich Turner, cake artist to the Queen of England; and Ron Ben-Israel, renowned for his $10,000 cakes, who will speak on "How to Cater to High-End Clients."
Other show-stopping highlights include a wedding zone for "I do" inspirations and the latest cake and wedding trends; a chocolate zone, exploring the finest in gourmet chocolate making and modeling; a kids zone, for a yummy interactive experience for burgeoning cake artists; and a sugar arts zone for a sweet introduction to sugar art.
"The cake design and sugarcraft industries are relatively young in the United States in comparison to other countries, but the popularity of these crafts are growing exponentially," said Kevin O'Reilly, founder of Satin Ice and TACSF. "Satin Ice is celebrating the rise of this cultural phenomenon with The Americas Cake & Sugarcraft Fair, which will bring together the most passionate group of industry professionals, hobbyists, and consumers from around the world for three days of unforgettable discovery and showmanship."
Registration for hands-on classes, demonstrations, and admission will be available in March. An early-bird admission special will be available through May 15: one-day badges will be on sale for $45; 2-day badges will be $70, and 3-day badges will be $95.
For more information about exhibitor opportunities, exclusive, customizable sponsorship packages, and further details and updates, visit http://www.cakefair.com. For exclusive contests and news, follow TACSF on Twitter, Facebook, and Instagram (@cakefair).
About The Americas Cake & Sugarcraft Fair:
The Americas Cake & Sugarcraft Fair, hosted by Satin Ice, is an international cake show, which will debut at the Orange County Convention Center in Orlando, Fl. The Americas Cake & Sugarcraft Fair promises to be one of the most exciting and dynamic cake shows in the world with an anticipated 30,000 in attendance, more than 150 vendors, and global media attention. The one-of-a-kind cake show was created by Satin Ice and its founder Kevin O'Reilly in response to the rising popularity of cake and sugarcraft artistry in the United States. The inaugural show expects to attract a passionate and diverse crowd of professional cake artists and decorators, sugar sculptors, chocolatiers, pastry chefs, and hobbyists from around the world.
About Satin Ice:
Established in 2001, Satin Fine Foods, Inc. developed Satin Ice rolled fondant to satisfy the demands of the world's best cake artists. Known for its superior workability, consistency, and taste, Satin Ice has become the Choice for Professional Cake Artists and grown to be a world-leading rolled fondant manufacturer, distributing to more than 65 countries. For more information please visit http://www.satinice.com.