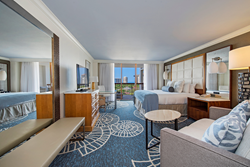 Naples Grande Beach Resort has the unique characteristics and offerings that the modern traveler to Naples, FL is seeking.
Naples, Florida (PRWEB) February 26, 2015
Northwood Hospitality ("Northwood") celebrated the completion of the independently branded Naples Grande Beach Resort & Naples Grande Golf Course in sophisticated style with an official unveiling event on January 30. The hotel embarked on its $18 million dollar renovation in August 2014 that included a redesign of all 424 tower guestrooms and suites, three new restaurants, beach and pool areas and common spaces. Local residents and guests will be awed by the coastal contemporary makeover on the interior, and inspired by the chic, fun amenities and services in the upgraded beach and pool areas.
Northwood purchased the property in October 2013 and transitioned the brand from Waldorf Astoria Naples to the independent Naples Grande Beach Resort. Northwood's vision for the property is enhancing all the guest experiences and facilities, and positioning it as the premier resort in the southwest Florida.
"Naples Grande Beach Resort has the unique characteristics and offerings that the modern traveler to Naples, FL is seeking," says David McCaslin, President of Northwood Hospitality. "Most noticeably, we distinguish ourselves from the standardized approach of international brands by staying true to the local region. In addition to the complete new design and look of the rooms, the property enhancements include furnishing each guest room balcony to enhance the outdoor Florida experience our guests seek. Plus we customized each of the three pools to bring a variety of aquatic offerings that exist alongside our renowned beach sunsets. We have created a new independent brand that is both genuine to the essence of luxury and dedicated to warm hospitality and the level of service that has become accustomed to the Northwood Portfolio," stated McCaslin.
"Our goal is to provide guests with an upscale, intimate and effortless Floridian experience – from surprising service touches on our spacious balconies, like the new Veuve With A View sunset Champagne service, to a completely pampered afternoon in one of our beach or pool cabanas with outstanding dining offerings and staff service," said Asset Manager and General Manager Hans Schmitt.
One of the resorts most distinctive attributes is the aquatics experience. There are three heated outdoor pools: the adults-only Palm Terrace pool which now has private cabanas and butler service that includes refreshing snacks and drinks and comes equipped with a dining table for four, flat screen TV and personal refrigerator; the Mangrove Pool is a thrill for the entire family with its spectacular waterslide twisting 100 feet around a rock tower through landscaped waterfalls. The Mangrove Pool also offers a beach style entry making it the ideal location for younger children, as the water gradually deepens from just inches to approximately three feet. And guests looking for a more secluded pool for some laps or water aerobics will find at match at the Hibiscus Hideaway pool, neatly tucked between the Garden Villa courtyards.
The gorgeous three-mile stretch of beach on the Gulf of Mexico is accessed through a protected mangrove estuary intertwined with a system of bridges and elevated walking path. Beach service is the crème-de-la-crème with the famous Boucher Brothers catering to guests every whim, and picture perfect relaxation in one of the new beach cabanas. Luxury chaise lounges, new beach umbrellas, and daybed services are available along with paddle boards and kayaks for guest use at their leisure.
Naples Grande Beach Resort features three new restaurants. The Catch of the Pelican, completely redesigned and renamed with a relaxed, sandal-style vibe celebrates the vibrant flavors of the Gulf Coast with fresh, local seafood and shellfish and choice cuts of meats and vegetables from local organic farms. Salads are complemented with the fresh flavors from the restaurants new herb garden. Rhode's End is the beach bar and grill serving lunch and dinner Mediterranean style, with dishes like grilled octopus salad, hummus and pita, feta flatbreads, fried baby squid, and burgers with tzatziki sauce. The Gulf Coast Oasis surf-shack themed pool bar is the perfect spot for lunch, appetizers or a cocktail treat with a menu of Baja-inspired sandwiches, refreshing salads and chiquitos and signature drinks like Oasis Punch, Upside Down Margarita, or the Sangria Fresca.
Meetings and groups at Naples Grande stand out from the crowd – the programs are creative, productive and give attendees a true sense of place. The attention to detail and outstanding staff service is what meeting planners say again and again sets the property apart. Now with a completely refreshed resort, and over 83,000 sq-ft of indoor and outdoor function space, elaborate catering choices and custom program design, Naples Grande can accommodate any request. A collaborative process, the team creates innovative programming from clever coffee breaks to exciting off-property excursions.
To both play and pamper, Naples Grande offers world class spa and golf experiences. Naples Grande Spa is an indoor-outdoor spa village sanctuary, encompassing four pavilions and featuring 12 treatment rooms, including a Spa Villa with a soaking tub, whirlpool bath, sundeck and patio. Unique features at the Spa also include a "floating" hair and nail spa and a meditation labyrinth. Naples Grande Golf Course is a highly acclaimed, Rees Jones-designed private course located minutes from the hotel and remains one of the property's marquee offerings. The 18-hole, par 72 course features 6,955 yards set among a lush landscape of native Florida pine hammocks, live oak, grand cypress trees, and brilliant water features.
Experience the resort with a special Best of Naples Grande Offer. Follow Naples Grande Beach Resort on Facebook and Twitter. For reservations or more information please visit http://www.naplesgrande.com or 855-923-7376.
About Naples Grande Beach Resort
The resort has 474 guestrooms including 29 gulf view suites and 50 bungalow suites plus more than 83,000 square feet of meeting and event space. Every room features a private balcony with direct views of the Gulf. Guests of the hotel have access to five on-site restaurants and bars, three heated outdoor pools, a full-service luxury spa, 8,000-square-foot fitness center, business center and an award-winning tennis facility with 15 courts. The property is surrounded by 200 acres of a protected mangrove estuary intertwined with a system of bridges and elevated walking paths that afford access to three miles of beachfront on the Gulf of Mexico. The property is also immediately proximate to the renowned Waterside Shops, Southwest Florida's most luxurious shopping mall.
About Northwood Hospitality
Northwood Hospitality manages a growing hotel portfolio of independent luxury hotels and resorts. Properties currently under management by Northwood Hospitality include: The New York Palace Hotel in New York, The London West Hollywood in West Hollywood, CA, Cheeca Lodge & Spa in Islamorada, FL, Parrot Key Hotel and Resort in Key West, FL, Tranquility Bay Beach House Resort in Marathon, FL and the The Marker Waterfront Resort in Key West, FL.
Northwood Media Contact: Bryan Barbieri,
1-617-457-2697, 1-508-340-1576, bbarbieri@northwoodhospitality.com
Naples Grande Beach Resort Contact: Laura Davidson Public Relations
Carla Tracy, carla@ldpr.com / Michelle Calarco, mcalarco@ldpr.com / 1-212-696-0660