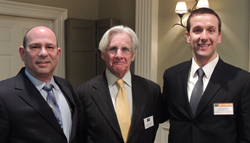 Warren, NJ (PRWEB) February 23, 2015
Over 70 people gathered at the Bernards Inn on Thursday, February 19 to enjoy cocktails together and for AEPG Wealth Strategies' seminar, 2015 Global Economic & Market Outlook.
Steven Kaye, President of AEPG, moderated presentations by Aldo Vultaggio, Senior Portfolio Manager of AEPG Wealth Strategies and Milton Ezrati, Partner, Senior Economist and Market Strategist from Lord Abbett, who shared their views on the outlook for 2015.
Aldo Vultaggio is a Chartered Financial Analyst (CFA), has an MBA in Finance and Accounting and is also a Certified Public Accountant (CPA). Vultaggio's presentation focused on what happened in the markets in 2014, as well as provided an overview of the US economy touching on the international economy.
Milton Ezrati is Partner, Senior Economist and Market Strategist at Lord Abbett, which manages $137 billion in assets. Ezrati is responsible for economic research and strategy, enabling clients to gain context and a further understanding of today's global markets. His presentation highlighted where we stand today on valuations and interest rates, and conveyed what his thoughts on what could occur over the next 12 to 18 months in the markets.
Feedback from the presentation was overwhelmingly positive with attendees stating the session was extremely informative and useful, and that the speakers succeeded in making complex topics easy to understand.
About AEPG ® Wealth Strategies: http://www.aepg.com
For over 30 years, AEPG Wealth Strategies clients have benefitted from personalized, comprehensive wealth management and financial advisory services. Our services to individuals, physicians, business owners and corporations include: Financial Planning, Wealth Management, Individual and Group Insurance, 401(k) and Retirement Plan Solutions.