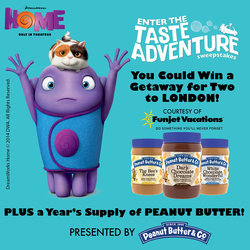 New York, NY (PRWEB) March 03, 2015
Peanut Butter & Co., together with prize partner Funjet Vacations, has launched the Taste Adventure Sweepstakes to celebrate the release of DreamWorks Animation's comedy adventure Home, in theaters March 27, 2015.
From Tuesday, March 3, 2015 to Friday, May 15, 2015, consumers can enter the Taste Adventure Sweepstakes for a chance to win the Grand Prize – a 5-night, 6-day getaway for two to London with hotel accommodations courtesy of Funjet Vacations! The winner will also receive a year's supply of Peanut Butter & Co. peanut butter, a "Dining and Food Tours in London" package, and assorted Home film merchandise. In addition, two First Prize winners will each receive Peanut Butter & Co. and Home prize packs. There is no purchase necessary to enter the sweepstakes. For a complete set of rules and to enter, consumers can go to http://www.TasteAdventureSweeps.com.
DreamWorks Animation's Home centers on Oh, a loveable misfit from another planet, who lands on Earth and finds himself on the run from his own people when he forms an unlikely friendship with an adventurous girl named Tip who is on a quest of her own. Through a series of comic adventures with Tip, Oh comes to understand that being different and making mistakes is all part of being human, and together they discover the true meaning of the word HOME.
Peanut Butter & Co. will promote the Taste Adventure Sweepstakes on specially-marked jars of Peanut Butter & Co. peanut butter, available at major supermarkets and retailers nationwide. The sweepstakes will also be promoted on the company's web site, social media channels, with email marketing, and through the sweepstakes entry site.
"Home is a deliciously entertaining movie about discovering new ways of looking at the world. At Peanut Butter & Co., we think that every day is an opportunity to experience exciting new foods, which is its own taste adventure," said Lee Zalben, Founder & President of Peanut Butter & Co. "We're excited to partner with DreamWorks Animation to celebrate this fun new film and offer consumers a chance to win a Funjet Vacations trip of a lifetime to London."
About Peanut Butter & Co.
Peanut Butter & Co. began in 1998 as a cozy little sandwich shop in Greenwich Village, NYC and has since become one of the fastest growing natural/specialty food companies in the US. The company's ten varieties of all natural, flavored peanut butter are available in over 15,000 supermarkets and specialty retailers, and Dark Chocolate Dreams, the company's chocolate flavored peanut butter, is the #1 selling all natural chocolate nut spread in the country (Source: IRI). Peanut Butter & Co.'s products are made exclusively from USA-grown peanuts. Find out more at ilovepeanutbutter.com, Facebook.com/PeanutButterCo, and Twitter.com/PeanutButterCo.
About Funjet Vacations
Funjet Vacations is the flagship brand of the family-owned Mark Travel Corporation, headquartered in Milwaukee. Operating for over 40 years, Funjet Vacations specializes in flexible, personalized vacations for individuals and groups via nonstop charters and scheduled airlines to some of the most popular vacation destinations, including Mexico, the Caribbean, Las Vegas, Hawaii, Ski, California, Florida, Europe, and spring break getaways. Travelers can choose from air-inclusive, land-only, or air-only vacations. With Funjet Vacations, travelers can enhance their vacation through a wide variety of experiences such as tours, attractions, shows, sporting events, and more. In addition, Funjet Vacations demonstrates its "end-to-end" customer service philosophy by being available to customers throughout the entire vacation experience, from planning to in-destination to post-travel communications.