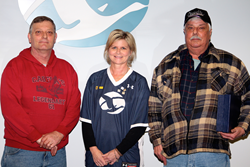 Our company thrives thanks to the ingenuity and experience of our associates and their enthusiasm for creating world-class products and services for our customers. Tracy Tyler, Cambridge International CEO
Cambridge, Maryland (PRWEB) February 24, 2015
Cambridge International, one of the Mid-Shore's largest employers, held an employee service recognition banquet February 6 at Jimmy and Sooks to honor 22 associates whose loyalty and careers have withstood the test of time, reaching 15, 20, 25, 30 and 40-year anniversaries. Awardees included three Dorchester County residents who reached 40-year milestones.
"We are proud to have so many talented and committed people who have been loyal to us for many years," said Tracy Tyler, Cambridge CEO. "Our company thrives thanks to the ingenuity and experience of our associates and their enthusiasm for creating world-class products and services for our customers."
Cambridge also continued its tradition of honoring employees who reached these employment milestones at its Annual Service Awards Breakfast. Tyler, along with company COO Tom Ross and Human Resource Director Heather Hillaert, recognized the service awardees at an all-employee event at the company's headquarters February 10.
The three honorees with 40 years of service are local men who have spent their careers as metal craftsmen in the company's plant operations. Glenn Brannock of East New Market and Gary Dibble of Cambridge began working as welders in 1974. Jimmy Gambrill, also of Cambridge, started his 40-year career as a metal fabricator.
"There are few things more valuable than time and talent: Glenn, Gary and Jimmy have given generously of both," said Tyler. "Their dedication and expertise are part of Cambridge's biggest asset and greatest resource – our people."
When Brannock, Dibble and Gambrill began working for the company in 1974, the U.S. was in political turmoil as Richard Nixon resigned the Presidency, Barbra Streisand's "The Way We Were" topped the Billboard Music chart and Hank Aaron snapped Babe Ruth's home run record. The three have remained through changes within the company, including the 1998 merger of Cambridge Wire Cloth and Maryland Wire Belts that formed today's Cambridge International.
2014 Service Award Recipients
Forty Years: Glenn Brannock (East New Market); Gary Dibble and Jimmy Gambrill (Cambridge)
Thirty-five Years: Talmadge Slacum (Dorchester County native who moved to Brownsville, Texas in 2000 to serve as manager of a Cambridge manufacturing plant)
Thirty Years: Stephen Dail and Robert Foster (Cambridge); Ulandia Potter (Preston)
Twenty-five Years: Ralph Carr (Hurlock); Lawrence Conway, Jason Todd, Gillis Todd and Joey Unsworth (Cambridge); Alex Travers (Vienna)
Twenty Years: George Johnson (Mardela Springs); Johnny McGlaughlin and James Travers (Cambridge); Barry Marshall (East New Market); Larry Windsor (Woolford)
Fifteen Years: Tom Crotti (Easton); Jack Hailey (former Dorchester County resident who moved to Brownsville, TX in 2014 to serve at Cambridge's manufacturing plant); Elsie Insley and Dal Insley (Cambridge)
About Cambridge International
With a heritage dating back to 1911, Cambridge International is the world's largest metal conveyor belt manufacturer and a global leader in the production of metal architectural mesh and filtration screens. Proudly based on Maryland's Eastern Shore, with manufacturing locations around the world, Cambridge is recognized as a pioneer in engineering and producing metal mesh products. Employing 350 team members around the world, Cambridge International is actively growing and expanding as it continues to create innovative product solutions to help customers achieve their goals.