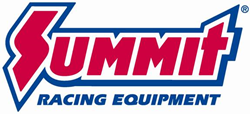 Tallmadge, OH (PRWEB) February 24, 2015
Kiwi Custom's radical KVS9000 1966 Mustang got its name from the big block Ford under the hood—557 C.I.D. is just over 9,000cc, or nine liters. Summit Racing has put together Kiwi Customs KSV900 Mustang 557 Engine Combos so big block Ford fans can duplicate the engine build or use it as a foundation for something even more radical.
Long Block Combo
John Bouchard chose his long block components wisely—Scat stroker rotating assembly with a cast crank, forged pistons, and H-beam rods; a custom-grind COMP Cams hydraulic camshaft; Trick Flow roller lifters and timing chain set; a Ford Racing oiling system; and ARP hardware.
Heads, Valvetrain, Induction Combo
Making 750 horsepower requires lots of airflow—and the fuel to make it burn. John Bouchard went all Trick Flow, starting with PowerPort® 325 aluminum cylinder heads with CNC Competition-Ported runners and combustion chambers. Filling those heads with air and fuel is a Trick Flow by Quick Fuel Race carburetor on an R-Series intake manifold. Other parts include Trick Flow roller rockers and chromoly pushrods
Completer Combo
Bouchard finished up the 557 engine build with a set of Hooker Super Competition headers, an MSD Ready-to-Run Billet distributor, Trick Flow cast aluminum valve covers, and an ARP engine accessory bolt kit.
You can read all about the engine build on Muscle Mustangs and Fast Fords page at Mustang 360.
Summit Racing Equipment
http://www.SummitRacing.com
1-800-230-3030