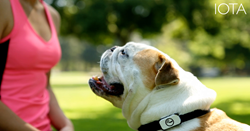 Pet tracking is an underserved market due to poor battery life of devices and unattractive monthly fees
San Francisco, California (PRWEB) February 25, 2015
Iotera today announced the closing of a $1M financing round led by ZenShin Capital Partners and joined by Crunchfund, Startup Capital Ventures, String Ventures, Earlymarket and Rubicon Venture Capital. The funding will be used to expand delivery of their IOTA® pet tracking system.  While IOTA® GPS-enabled tracking will help protect and locate bikes, cars, children and more, many consumers are ordering them for use as a pet tracker to help prevent lost cats and dogs.
Iotera launched a successful Kickstarter campaign in July of 2014, taking in more than $280,000 of pre-orders for the world's smallest and longest battery life real-time GPS tracking device, and the only long range tracker which has no monthly service fees. Once the product launches, consumers will be able to keep track of their valuables over much of the San Francisco Bay Area, Los Angeles, New York City and other large metropolitan areas through Iotera's unique crowd-sourced wireless network. Iotera's network coverage will rapidly expand to other geographies as each IOTA establishes its own coverage area making it ideal for both urban areas as well as remote areas that have little or no cellular coverage. Iotera's up to the minute planned coverage map can be found at http://www.iotera.com/coverage.
Ben Wild, CEO of Iotera discussed the rapid adoption of the network by saying "There are multiple markets that our technology can serve today, but to begin with we are focused on the pet tracking application with our tiny GPS tracker that has 10x improvement in battery life compared to any other product we are aware of. While pet tracking is our first key application, we are already seeing consumers interested in using our technology for other applications such as tracking children, elderly, cars and bicycles. We are excited by how quickly this application is driving total coverage of key cities in the US."
Clancey Stahr, managing partner at venture capital firm Zenshin Capital, commented on the closing, saying, "After surveying the IoT landscape, we were convinced that pet tracking was an underserved market due to poor battery life of devices and unattractive monthly fees. We loved the idea of building a proprietary IoT network to eliminate carrier fees and a unique protocol to carefully conserve power".
Iotera is currently taking pre-orders for the Iota GPS pet tracker and is targeting delivery of the product in the summer of this year.
About Iotera  
Iotera is a world leader in wireless technologies for the growing wide area internet of things (IoT) market. Their first product, the IOTA®, is the smallest GPS tracking device, ideal for pet tracking. Iotera is based in Silicon Valley and led by a veteran team of wireless & location-based technology experts. For more information please visit http://www.iotera.com or http://www.facebook.com/getiota or http://www.twitter.com/iotera
About Zenshin Capital Partners
ZenShin Capital provides venture capital to pre-seed and seed stage Silicon Valley and Tokyo-based startups. They often invest in pre-product companies and help guide entrepreneurs through their first few rounds of funding. They were founded in early 2005. For more information please visit http://www.zenshincap.com
About Crunchfund
CrunchFund is an early stage venture capital firm founded by Michael Arrington and Patrick Gallagher. The fund invests in and works with information technology companies at any stage but is primarily focused on seed and early stage investments. For more information please visit http://www.crunchfund.com
About Startup Capital Ventures
Startup Capital Ventures is an early-stage Silicon Valley & Honolulu based venture capital fund specializing in highly scalable enterprise technology companies across a variety of sectors including security, fintech, travel, wireless, etc. For more information please visit http://www.startupcv.com
About String Ventures
String Ventures focuses on seed and early stage investments. With experience in product design and growth marketing, they invest in both consumer and enterprise businesses. Their focus is on perceptual computing, mobile & location-based services, data visualization and the internet of things. For more information please visit http://www.stringventures.com
About Earlymarket
Earlymarket is a London-based venture capital firm which focuses on incubating exciting new ideas with early stage companies. The focus on helping startups penetrate the UK market. For more information, please visit http://www.earlymarket.com
About Rubicon Venture Capital
Rubicon Venture Capital combines a VC fund with a unique global community of value added entrepreneur investors to build lasting technology companies. Their investors are mainly successful entrepreneurs and executives located in key cities around the world. They invest in Later Stage Seed and Series A & B venture capital financing rounds of high potential early stage disruptive technology companies. For more information please visit http://www.rubicon.vc
Press contact:
Dan Lazier
email: info(at)iotera.com