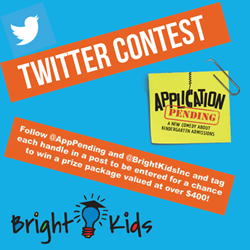 New York, NY (PRWEB) February 24, 2015
YouTube Sensation, Christina Bianco, stars in the new off-Broadway play, Application Pending. Bianco plays a Kindergarten Assistant at Edgely Prep, an elite Manhattan private school that parents are chomping at the bit for their four-year-olds to gain entrance to. While the play is full of an array of hilarious, highbrow, and ironic characters, the most intriguing part is that Bianco plays every single role, completely on her own.
Bright Kids Inc., America's premiere tutoring company that specializes in Kindergarten admissions test prep, has partnered with Application Pending. Bright Kids' Gifted and Talented entrance exam prep for the area's most competitive programs (especially Kindergarten programs) is the company's most sought-after service. Parents vying for a spot in these programs can appreciate the humor and relatability portrayed in Application Pending, which makes light of an otherwise difficult and nerve-wracking process.
If you'd like to check out this hilarious, smart, and quick-witted play, Bright Kids and Application Pending are holding a Twitter contest for the chance to win two tickets to the show, a free Bright Kids diagnostic exam (valued at $250), as well as a $25 book voucher for any one of Bright Kids' custom publications. Just follow @BrightKidsInc and @AppPending, and tag both handles in a tweet to be entered to win. Good Luck!
To learn more about this merger, please contact:
Lindsey Metrus, Marketing Coordinator
225 Broadway Ave, New York, NY Ste. 1504
Office: (917) 539-4575
l(dot)metrus(at)brightkidsnyc(dot)com