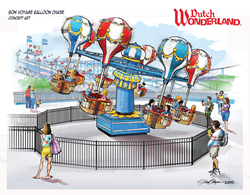 "We are thrilled about the addition of this new family ride," said Rick Stammel, Dutch Wonderland's General Manager.
Lancaster, PA (PRWEB) February 25, 2015
Dutch Wonderland will introduce Bon Voyage Balloon Chase, a new family ride for 2015 featuring eight hot air "balloons" that fly in a circle rotation while riders in the balloon gondola baskets control their individual balloon's spin. The ride is scheduled to open with the Park on May 2, 2015.
Bon Voyage Balloon Chase tells the story of Princess Brooke, the Princess of Dutch Wonderland, who receives the ride as a gift from a fellow royal whom she met during her winter travels – "Empress Emille from the Kingdom of Dania" from faraway France. The ride is a symbol of their friendship and their mutual love of adventure and fun.
"We are thrilled about the addition of this new family ride," said Rick Stammel, Dutch Wonderland's General Manager. "We are excited to receive this gift and very thankful to Princess Brooke for sharing this ride with us and our guests. It's going to be a wonderful addition to Dutch Wonderland," Stammel remarked.
As a proposed family ride, Bon Voyage Balloon Chase will accommodate riders of all heights. Riders fewer than 36 inches will need to be accompanied by a responsible rider. Hand-held infants are not permitted on the ride. Each balloon can accommodate up to four riders, based on height and weight.
Ride Specs for Bon Voyage Balloon Chase

Manufactured by Zamperla
Horizontal rotating vehicles (balloon gondola baskets) are attached to arms, which are attached to a hydraulically lifted center. The center is tilted at the top giving the feel of a rotating wave
Maximum capacity per ride cycle: 32 riders
Height of the ride structure is 17' 6". Extended height is 21" 6'. Ride circumference is 24 feet. Balloons will soar between 5-8 feet off the ground as they ascend and descend during rotation.
Ride speed: 7.5 RPMs.
Ride time: approx. 2 minutes
Dutch Wonderland announced the addition of Bon Voyage Balloon Chase on their Facebook page on Monday, February 16, 2015 at 10 a.m. Attraction details and concept art can be found at http://www.dutchwonderland.com/2015.
For more information about Dutch Wonderland Family Amusement Park including 2015 operating hours and ticket pricing, please call 1-866-FUNatDW or visit DutchWonderland.com.
About Dutch Wonderland:
Dutch Wonderland is part of the Palace Entertainment family of parks. Palace Entertainment is one of the leading leisure park operators in the United States. With parks located in 10 states, Palace Entertainment continues its expansion of brands within the family entertainment sector. The company operates Kennywood amusement park in Pennsylvania, Noah's Ark water park in Wisconsin, Splish Splash water park in New York, and Raging Waters in California, among many other family favorite destinations. Palace Entertainment parks provide family oriented and affordable attractions to visitors of all ages, offering a wide range of attractions, such as roller coasters, Ferris wheels, live shows, variable depth pools, water slides, animal shows, miniature golf courses and arcade games. Palace Entertainment greets over 13 million visitors annually.