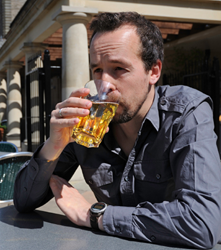 While complete avoidance of alcohol is necessary for some to achieve meaningful recovery, there are others who could greatly benefit from successfully reducing the amount and frequency of alcohol use." - Dr. John Larson, Gateway Treatment Centers
Chicago, IL (PRWEB) February 26, 2015
This February, the FDA suggested new guidelines for drug makers interested in developing treatments for alcoholism. In a groundbreaking departure from conventional thinking, the guidelines would give drug companies the green light to develop treatments that help patients stay within "low-risk" daily drinking limits.
Presently, the goal of pharmaceutical treatments for alcoholism is total abstinence from drinking alcohol.
In a February 11 Bloomberg.com post, FDA spokesman Eric Pahon explained that abstinence-based endpoints are often unattainable in a clinical trial, which can hinder the development of drugs to treat alcoholism. "Reducing heavy drinking to within 'low-risk' daily limits presents an alternative goal in drug development so more treatments may be developed," Pahon said.
John Larson, M.D., Corporate Medical Director of Gateway Alcohol and Drug Treatment Centers, agrees. "While complete avoidance of alcohol is necessary for some to achieve meaningful recovery, there are others whose lives could greatly benefit from treatment that successfully reduces the amount and frequency of alcohol use without requiring total abstinence. These new FDA guidelines could aid in the discovery of whole new categories of medications that could do just that," said Dr. Larson.
There are currently three categories of drugs sold to treat alcoholism. In addition to having limitations, these medications are only effective for some. Despite this, no new medications have been introduced into the alcohol treatment market in nearly ten years. Reaching the high bar of total sobriety in a clinical trial consistently proves elusive.
The National Institute on Alcohol Abuse and Alcoholism (NIAAA) acknowledges more medications are needed to serve the broader population. Dr. Raye Litten, associate director of the agency's Division of Treatment and Recovery Research, believes more alcohol treatments will enable more patients to find one that works for them.
The FDA proposal identifies alcoholism as continued drinking despite physical and psycho-social consequences. The agency said an alcoholism drug should ultimately improve those consequences, which can be done via total sobriety or a reduction in alcohol use.
"There are millions of people who can benefit from this new approach by the FDA. I am happy to see that progress is being made to treat America's number one public health problem" said Michael Darcy, Gateway's CEO & President.
About Gateway Foundation Alcohol & Drug Treatment
Gateway Alcohol & Drug Treatment Centers provide substance abuse treatment services for teens and adults at drug rehab centers throughout Illinois and the St. Louis Metro East area. Gateway's outpatient and inpatient treatment centers are licensed by the state of Illinois and accredited by the Joint Commission. Each year, Gateway helps thousands of individual's successfully complete treatment.
Learn more about Gateway's free, confidential consultation, call (800) 971-4673.