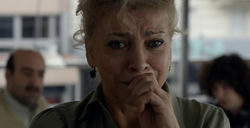 Los Angeles, CA (PRWEB) February 24, 2015
March 8th 2015 is officially International Women's Day. In light of such an occasion, NewFilmmakers LA Film Festival is screening short films directed by female directors and shorts films with female-driven plots. From coming-of-age, to family relations, to fashion-forward tendencies, the short films that will be showing at the NFMLA's March 7th event will express the appreciation for female contribution to the arts and entertainment.
Further information on the featured productions can be found below.
Short Film Program #1: Spotlight on Female Directors
THE KINGDOM directed by Nicole Jones (Los Angeles)
A coming-of-age story about an adult, The Kingdom follows an efficient and seasoned hotel appraiser as she goes to a motel that changes her view on the world. This motel in the middle of the desert is run by a ten year old girl, who calls it The Kingdom. Through their clash, the two characters learn about imagination, childhood, and themselves.
"The Kingdom"— starring Jessica Belkin (Mission: Impossible - Ghost Protocol, Rise of the Guardians)— was Jones's thesis film as a senior at Chapman University. The film will have its LA premiere at NewFilmmakers. As a film student, Jones was the recipient of an award from The Women of Chapman organization. The grant was intended to help with the production of "The Kingdom."
SINCERIDAD directed by Andrea Casaseca (Spain)
After lunch, David must confess the news to his parents. What he still doesn't know is the impact it will have in them.
Casaseca's short film has been widely recognized, having been an official selection at over 90 international film festivals and taking home 21 awards, including Preselection Best Shot Film at Goya Awards 2015 (Spain), Audience Award for the Best Short Film at Irvine International Film Festival (USA), Audience Award at Fresno Filmworks Film Festival (USA), Gold Remi for the Best Dramatic Short Film at Worldfest Houston International Film & Video Festival (USA), Award for the Best Social Commited Short Film at Kimera Film Festival (Italy), Second Prize For The Best Short Film at Concorso Internazionale del Cortometraggio Orziincorto (Italy), Senior Jury Prize at Youngabout, International Film Festival For Young People (Italy), Best Screenplay at Festival Internacional de Cortometrajes de Tematica Social Solo para Cortos (Spain), Special Jury Mention at Festival de Cine de Humor Maipu Cortos (Argentina), First Prize for the Best Short Short Film Fescigu at Festival de Cine Solidario de Guadalajara (Spain), Audience Award at Concurso de Cortometrajes Villa de Ayerbe (Spain), Best Short Film at Proyecta, Certamen Universitario De Creación Audiovisual (Spain).
BETWEEN ME directed by Kim Farrant (Australia)
Secrets and lies explode and backfire at a sex and love addicts meeting that goes terribly wrong.
A woman of many talents, Farrant, in addition to writing and directing her own projects, directs commercials and coaches actors and has taught classes on directing actors and documentary filmmaking. Farrant's recent production, Strangerland, which she directed and was an official selection at the Sundance Film Festival, stars Nicole Kidman (Moulin Rouge!, The Golden Compass, The Others, Eyes Wide Shut), Hugo Weaving (The Matrix, Captain America: The First Avenger, Transformers, V for Vendetta, Legend of the Guardians: The Owls of Ga'Hoole, Happy Feet, The Lord of the Rings), and Joseph Fiennes (Shakespeare in Love, Luther, Enemy at the Gates, Elizabeth).
ROSE COLORED WORLD directed by Katherine Griffin (USA)
When she dares to question the directions on the back of a new hair product from New Perspectives, cynical hairstylist Gilda gets swept away into a fantasy world. Her view of the world is altered, and her eyes are opened to the possibilities all around her.
Griffin's short film will be making its World Premiere at NewFilmmakers Los Angeles on the March 7th film fest. "Rose Colored World" stars Cheyenne Casebier (Two and Half Men, John Adams). Emmy Award-winning editor and Nicholl Screenwriting Fellowship Semi-Finalist, Griffin, has worked on a variety of productions such as The Innocents, The Biggest Loser, Beauty and the Geek, Keeping Up with the Kardashians, and Top Chef.
FOREVER AFTER directed by Charlotte Scott-Wilson (Netherlands)
A girl reconsiders her hard-partying lifestyle during a particularly uncomfortable walk-of-shame.
"Forever After" has been featured at film festivals worldwide. It was an official selection at the Palm Springs Film Festival, Premiers Plans, and Mumbai Short Film Festival. Additionally, it was a short film competitor at the Dutch Film Festival, while at the London Short Film Festival it claimed the "New Shorts: Global Stories" award. Scott-Wilson's previous work has earned her a Golden Calf for best short. Director and screenwriter, Scott-Wilson is a producer at OAK Motion Pictures— a voting member of the European Film Academy— which works on national and international feature films and television drama.
RYAN MCGINNESS: STUDIO PROCESS directed by Jess Dang (USA)
Ryan McGinness has been coined as the Andy Warhol of our time. He's also been called a God, a leader of the new semiotics, and a pioneer of the contemporary art movement. Ryan McGinness: Studio Process, unveils the creative process and highlights Ryan McGinness at work.
After receiving a Bachelor of Fine Arts degree in Communication Design from Parsons School of Design and a few years of art directing for television commercials and photo shoots, Dang pursued a Master of Fine Arts degree from The University of Southern California in Film and Television Production. Dang's first short documentary film premiered at the Hollywood Shorts Festival. The Santa Barbara International Film Festival, The Hong Kong International Film and Television Festival, The Art Director's Club, The Chelsea Art Museum in New York City, and The Creative Lab, Brooklyn are just some of the other festivals that have featured Dang's works.
Short Film Program #2: Spotlight on Female-Driven Stories
SUGAR COATED directed by Chris Parson (USA)
Lolita, a fashion movement imported from the streets of Harajuku, Tokyo, has a thriving group of followers in Los Angeles. We follow four Lolitas and investigate their motivations for taking on the extreme style; from self expression, to the questioning of identity and body image.
Winner of Best Documentary Short at the Los Angeles International Underground Film Festival, "Sugar Coated" was featured at the Thin Line Film Festival and the 2014 Atlanta International Documentary Film Festival.
GO TO SLEEP, SADIE directed by Alexandre Martins (USA)
"Go To Sleep, Sadie" follows Sadie and her pet turtle through one lonely night plagued by insomnia, laundry, and noisy neighbors.
The short film stars Courtney Jines (Spy Kids 3-D, Because of Winn-Dixie, The War at Home, ER). Meanwhile behind the scenes, film director Martins, co-founder of Moonflower Pictures, has worked on projects that have been screened at Festival de Cannes 2014, L.A. Shorts Fest, and St. Tropez International Film Festival, where his production claimed "Best Short Film."
THE CROSSING directed by Nathalie Biancheri (UK)
In a remote Italian town in 1961 teenage Eileen lives a lonely existence in the empty halls of her decadent family home. When a journalist persuades her to try to be the youngest person to swim the English channel, Eileen thinks she has found an escape from her bleak future but the journalist's intentions are not what they seem.
Biancheri's short film starts British actresses Cherie Lunghi (Sherlock Holmes, Excalibur, King David, Frankenstein, Back to the Secret Garden, EastEnders), Jo Hartley (Law & Order: UK, The Young Victoria, Dead Man's Shoes, This Is England), and Sabrina Bartlett (Doctor Who, Da Vinci's Demons). Behind the scenes, the short was edited by established film editor Andrew Jadavji (Becoming Jane, Kinky Boots, Pirate Radio, Locke), while in the music department Paul Saunderson (Kick-Ass, Johnny English Reborn, Being Flynn, Strike Back) put his music-composing skills to work. Saunderson is also currently working on the major motion picture Survivor which features a star-studded cast including Pierce Brosnan, Milla Jovovich, James D'Arcy, Emma Thompson, Dylan McDermott, and Angela Bassett.
SUGARHICCUP directed by Lisa Donato (USA)
A neurotic journalist searches through digital clues trying to decipher a mysterious message left by her fiancé who has suddenly disappeared.
After a long-lasting, successful career in advertising, as a director, photographer, and producer, the screenwriter and director of "SugarHiccup", Donato, decided to pursue her passion of filmmaking. Donato and the film's cinematographer and editor, Jeffrey Schwinghammer, are co-chiefs of Sparkle Motion Films, which was founded in 2014. "SugarHiccup" is the first short film that Donato has directed.
VOYEUSE directed by Florence Sobieski (France)
Esther, a young and solitary woman, starts spying on Antoine, her new next-door neighbor. As another young woman moves in with him, Esther's growing obsession over the couple paradoxically leads her to confront her uneasy relationship to her own body. 'Voyeuse' is a short film that looks into a too often taboo-ridden female sexuality, showing it with just as many gray areas as its male counterpart and many inner struggles.
Sobieski's previous production "Waiting"-- now available on iTunes and Amazon-- was featured at the Short Film Corner in Cannes. "Voyeuse" has also been recognized with awards and screenings at international film festivals. At the 2013 Lady Filmmaker Film Festival in Beverly Hills, it was awarded the Best Foreign Film. At France's Festival de Luchon it took home the Audience Award, and at Canada's Female Eye Film Festival it claimed the Best Short Film Award. Additionally, "Voyeuse" was screened at FICEG (France), Aesthetica Short Film Festival (UK), Corrida Audiovisuelle Film Festival (France), RxSM Self-Medicated Film Expo of Austin (USA), and Le Cri de l'Oeil Film Festival (France), where it premiered.
COME SIMI directed by Jenica Bergere (USA)
A neurotic pregnant woman on the verge of giving birth, attempts to reunite her estranged family which includes an impossible mother riddled deeply with Alzheimer's, an aging porn star sister and an intense Aunt, whom the family hasn't seen in 18 years. All in an effort to fix her family history before giving birth.
Currently fulfilling a role on the Amazon Television show Bosch, Bergere (Seinfeld, Frozen, Rat Race, The Drew Carey Show, The King of Queens, CSI) directed, co-wrote, and acted in "Come Simi", which was recently honored as the winner of "Best Filmed Screenplay" at 2015 Hollywood Reel Independent Film Festival. In front of the camera, Bergere was accompanied by actress Fionnula Flanagan (The Others, Yes Man, Four Brothers, Lost, Brotherhood, Nip/Tuck) and actor Andrew Dits (General Hospital, The Bold and the Beautiful, Complete Works). Meanwhile, behind the camera, Bergere worked with talented artists such as producer-casting director, Mary Vernieu (Black Swan, Sin City, Silver Linings Playbook, Requiem for a Dream, Cake, The Giver, Divergent, American Hustle), film editor, Jaceson Mann (The Perks of Being a Wallflower, Fury, The Equalizer, Divergent, Jobs), and casting director, Lindsay Graham (American Hustle, Black Swan, The Perks of Being a Wallflower, Silver Linings Playbook, Cake). Comedian Molly Shannon (SNL, Raising Hope, The Millers, Scary Movie 4 and 5, The Middle, American Dad!, Glee, Evan Almighty, 30 Rock) can be heard in the production, as she contributes her voice to this film.
Located in Downtown LA, AT&T Center is the Presenting Venue Sponsor of NewFilmmakers LA (NFMLA). Founded in 2007, NFMLA has screened over 950+ films from over 59 countries. NFMLA boasts over 30,000 supporters locally. The organization provides a forum where filmmakers can be recognized with title supporters Sony Pictures Entertainment, TheWrap, SAG-AFTRA, Variety Magazine and LA Weekly.
For information or to reserve tickets to the NewFilmmakers LA March 7th, 2015 screening, please visit http://www.newfilmmakersla.com.