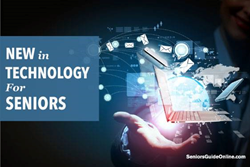 Every year we hear more from retirement communities and caregivers about how they are using new technologies for senior care
Richmond, Virginia (PRWEB) February 26, 2015
While technology use among older adults continues to see an increase in users, Seniors Guide magazine and http://www.SeniorsGuideOnline.com feature several new articles that help seniors and their families navigate the use of the smartphones, computers, tablets, and other "gadget" devices.
Because of the rise in smartphone use, including Apple's iPhone, Samsung Galaxy, and other internet-enabled cell phones, there are now more apps for seniors available to download.
According to the Pew Internet Research Project, about 90 percent of American adults a cell phone, and more than half of adults (about 58 percent) own a smartphone.
Apps like EyeReader and Lumosity provide assistance with reading and cognitive development and are top rated in the app stores that they are offered in. Even Skype, with a very easy-to-use format, are popular among seniors and boomers who wish to talk and see family and friends.
"Every year we hear more from retirement communities and caregivers about how they are using new technologies for senior care", says Katharine Ross, Vice President of Seniors Guide.
"Tablets and other computer devices are becoming more popular and natural to use for older adults".
Seniors Guide writer Terri L. Jones also has been researching the latest in technology targeting older adults.
In her newest article, "What's New in Technology for Seniors", Jones features 5 of the latest "gadgets" and "gizmos". While some devices were for fun, several monitoring and medical alert devices also made the list.
Evermind is a helpful device that alerts family and caregivers through electronic monitoring on their smartphone or tablet.
"Evermind will alert those who are watching out for you when any appliance—such as a lamp or a TV—has been left on for an extended period of time and potentially signaling danger", writes Jones.
Another monitoring App, Safeinhome, can communicate to a family or caregiver's phone through wireless sensors set up in the house. Much like Google's NEST devices, the sensors operate in real time.
For more information on these and other articles, visit http://www.SeniorsGuideOnline.com.
Seniors Guide, a Richmond, Va. -based company publishes Seniors Guide magazines throughout Cincinnati, Ohio; Columbus, Ohio; Dayton, Ohio; Indianapolis, Indiana; Raleigh-Durham, North Carolina; Richmond, Virginia; and Roanoke-Lynchburg, Virginia and features a correlating website of SeniorsGuideOnline.com. Seniors Guide's mission is to help seniors and their families find the information they need on options available in senior housing, senior care, assisted living, independent senior living, retirement communities and other retirement living needs. Seniors Guide also has resources at http://www.HomeCareChoice.com for Cincinnati, Ohio; Columbus, Ohio; Dayton, Ohio; Raleigh-Durham, North Carolina; and Richmond, VA. Ross Publishing, Seniors Guide's parent company, began in 1991 and has been publishing helpful, free publications and websites ever since.