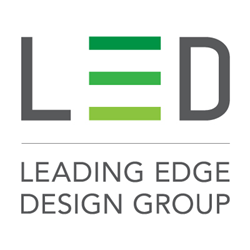 "As our service set has evolved and our business has grown, we needed our website to better reflect who we are and the ways in which we provide value to our customers"
Enfield, NH, February 25, 2015 (PRWEB) February 26, 2015
Leading Edge Design Group (LEDG), the nation's leading provider of Data Center, LED Lighting, Information and Communication Technology solutions, is pleased to announce the launch of its new website http://www.ledesigngroup.com. The site is aimed at communicating the broader breadth of services LEDG now offers clients including, designing, building and maintaining critical infrastructure systems.
For close to a decade, Leading Edge Design Group (LEDG) has served the market with vendor-neutral solutions for data center, LED lighting, and information and communication technology projects. The new site will be of tremendous value to business professionals and small to large firms as it will be continually updated with blog posts, whitepapers, and case studies from LEDG's subject matter experts. The site's clean design, makes it easy to navigate and access relevant content quickly and efficiently.
"As our service set has evolved and our business has grown, we needed our website to better reflect who we are and the ways in which we provide value to our customers," said Todd Boucher, Principal and Founder of LEDG. "The new website and brand refresh are now more closely aligned with our vision and the services we offer, and lays the foundation for our ongoing growth and expansion."
If you are interested in learning more about the work that LEDG does or for additional information on the news that is the subject of this release, please contact Gabriela Paredes Galvin 508-776-7724 or gpg(at)ledesigngroup(dot)com or visit http://www.ledesigngroup.com.
About Leading Edge Design Group
Leading Edge Design Group is a critical infrastructure specialist with vendor-neutral solutions for Data Center, LED Lighting, and Information and Communications Technology projects. Founded in 2007, Leading Edge Design Group helps organizations design, build, and maintain systems that are reliable, scalable, and energy efficient.