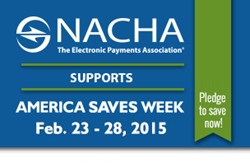 Splitting their Direct Deposit offers employees an effective way to regularly put aside a fixed amount or percentage of their pay automatically and directly into savings and investment accounts for emergencies, planned expenses or retirement."
Herndon, VA (PRWEB) February 24, 2015
In support of America Saves Week on February 23-28, NACHA — The Electronic Payments Association encourages employees to enroll in Direct Deposit via ACH and authorize a split deposit of their pay— helpful tools to automatically grow savings.
NACHA also announced that it will commission a survey in partnership with the Consumer Federation of America (CFA) to further assess the benefits of Direct Deposit via ACH for employees. Direct Deposit via ACH, which provides for the electronic deposit of payroll, also enables split deposit, or the ability to divide pay between multiple accounts.
"Splitting their Direct Deposit offers employees an effective way to regularly put aside a fixed amount or percentage of their pay automatically and directly into savings and investment accounts for emergencies, planned expenses or retirement," said Janet O. Estep, president and CEO of NACHA.
"We look forward to working with the CFA on this project to bring needed attention to the importance of automatic savings for employees' long-term financial future," Estep said.
As part of America Saves Week, NACHA will participate in a webcast, "Choose a Retirement Solution for Your Small Business Today," sponsored by the U.S. Department of Labor's Employee Benefits Security Administration (EBSA) on February 26.
During the webcast, NACHA and the CFA will focus on direct deposit as a way to simplify employees' ability to build savings for retirement at work and ways direct deposit helps employers by simplifying business processes and increasing productivity.
For more information, tools and resources on Direct Deposit via ACH and split deposit, please visit http://www.electronicpayments.org.
About America Saves Week
America Saves Week is coordinated by America Saves and the American Savings Education Council. Started in 2007, the Week is an annual opportunity for organizations to promote good savings behavior and a chance for individuals to assess their own saving status. Typically thousands of organizations participate in the Week, reaching millions of people.
Consumer Federation of America
The Consumer Federation of America is a nonprofit association of more than 250 consumer groups that was established in 1968 to advance the consumer interest through research, advocacy and education.
NACHA — The Electronic Payments Association
Since 1974, NACHA – The Electronic Payments Association has served as trustee of the ACH Network, managing the development, administration and rules for the payment network that universally connects all 12,000 financial institutions in the U.S. The Network, which moves money and information directly from one bank account to another, supports more than 90 percent of the total value of all electronic payments in the U.S. Through its collaborative, self-governing model, education, and inclusive engagement of ACH Network participants, NACHA facilitates the expansion and diversification of electronic payments, supporting Direct Deposit and Direct Payment via ACH transactions, including ACH credit and debit payments, recurring and one-time payments; government, consumer and business transactions; international payments, and payments plus payment-related information. Through NACHA's expertise and leadership, the ACH Network is now one of the largest, safest, and most reliable systems in the world, creating value and enabling innovation for all participants. Visit nacha.org for more information.