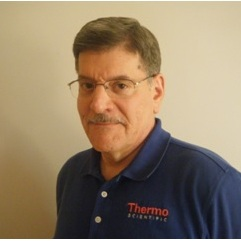 Yorba Linda, CA (PRWEB) February 23, 2015
Thermo Scientific announces a new educational webinar, "Quantitation of Amino Acids in Dried Blood Spots Using Tandem Mass Spectrometry," featuring Dr. Joseph Di Bussolo, PhD, Senior Applications Scientist at Thermo Fisher Scientific. The webinar will be presented live February 25, 2015 at 8:00AM PT.
Flow injection tandem mass spectrometry (FIA-MS/MS) has been frequently used to analyze amino acids (AA), acylcarnitines (AC), and succinylacetone (SUAC) in dried blood spots (DBS) for inborn errors of metabolism (IEM) research. While butyl esterification method (derivatization) is routine, it is possible to detect AAs, ACs, and SUAC as their native free acids (nonderivatization).
Researchers who are interested in the topics listed below would benefit from this webinar:

Inborn errors of metabolism (IEM) research
Quantitation of amino acids and acylcarnitines
Selected reaction monitoring (SRM) method development and verification using triple quadrupole mass spectrometer
Streamlining post-analytical data processing
Nonderivatization vs. derivatization sample preparation method comparison for IEM research
Dr. Joseph Di Bussolo will discuss key learning objectives, such as the benefits of tandem mass spectrometry in inborn errors metabolism (IEM) research, a workflow of using tandem mass spectrometry for analysis of AAs, ACs, and SUAC in dried blood spots (DBS), challenges of handling huge quantities of data generated from tandem MS analysis, and meta-calculation software for post-analytical data processing, in addition to a discussion of research results of evaluation and comparison of nonderivatization and derivatization sample preparation methods on a triple quadrupole mass spectrometer.
Joe Di Bussolo currently works for Thermo Fisher Scientific as a senior scientist training and collaborating with customers and managing the Applications Laboratory at West Chester University of Pennsylvania. He is also an honorary faculty member and advisor in the University's Pharmaceutical Product Development program.
To learn more about this webinar and register for free, click here.
About Thermo Fisher Scientific:
Thermo Fisher Scientific Inc. is the world leader in serving science, with revenues of $17 billion and 50,000 employees in 50 countries. Our mission is to enable our customers to make the world healthier, cleaner and safer. We help our customers accelerate life sciences research, solve complex analytical challenges, improve patient diagnostics and increase laboratory productivity. Our four premier brands - Thermo Scientific, Life Technologies, Fisher Scientific and Unity Lab Services - offer an unmatched combination of innovative technologies, purchasing convenience and comprehensive support.
About LabRoots:
LabRoots is the leading scientific social networking website and producer of educational virtual events and webinars. And we are a powerful advocate in amplifying global networks and communities, and contributing to the advancement of science through content sharing capabilities and encouraging group interactions.
Founded in 2008, LabRoots emphasizes digital innovation in scientific collaboration and learning. We have become a primary source for current scientific news, webinars, virtual conferences and more. Join for free and become part of the largest scientific learning community in the world.