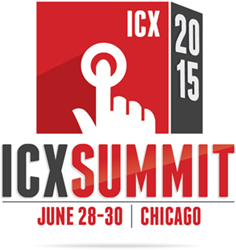 The need for ICXA reflects a rising emphasis among brands to create superior customer experiences through multiple technologies.
Louisville, KY (PRWEB) February 24, 2015
Networld Media Group today announces the launch of the Interactive Customer Experience Association (ICXA), which will promote and accelerate the convergence of customer experience technologies and disciplines across all consumer channels.
"The need for ICXA reflects a rising emphasis among brands to create superior customer experiences through multiple technologies," said Networld Media Group's CEO, Tom Harper. "Our membership unites professionals from such disciplines as customer experience and service, loyalty, merchandising, marketing, sales, and retail operations."
Technologies employed by these innovators encompass CRM, POS, digital display, self-service, e- and m-commerce, mobile payment, and much more. ICXA represents a broadening of scope to understand how various technologies can be combined to create unique and unprecedented consumer experiences.
ICXA will host its first annual ICX Summit in Chicago on June 28-30, 2015. Keynote speakers include Blaine Hurst, EVP of Panera Bread and Paul Price, CEO of Creative Realities.
The soon-to-be-launched ICXA.org website will feature a members-only education archive, including videos, webinars and podcasts covering the association's educational activities. The site will also offer an industry blog and supplier directory.
To jumpstart its launch, ICXA is merging with and absorbing the full membership of the Digital Screenmedia Association (DSA), which had focused previously on the self-service, kiosk, and digital signage technology segments.
"The DSA board is excited about this new direction," said Bill Lynch, DSA president and new ICXA board member. "The emerging customer experience market encompasses all of our member industries and much more. Our research into market trends and member needs finds most DSA members either expanding into broader customer experience solutions or aligning with partner companies. It became clear that our association must evolve to better serve the expanding needs of our members."
Existing DSA members will receive full membership in ICXA and enjoy increased benefits with additional learning, networking and peer groups. Technology innovators and suppliers will be invited to participate as instructors in a new online learning series.
Under the leadership of Executive Director Scott Slucher, the new ICXA will continue to expand and develop membership across such industry verticals as banking and payments, retail and restaurant, healthcare, hotel and entertainment, education and government. Slucher brings to his new role many years of professional experience in sales and marketing, digital media, and market research disciplines. His specialty is helping organizations make deeper connections within their industries.
ABOUT NETWORLD MEDIA GROUP
Founded in 2000, Networld Media Group is a leading business-to-business (B2B) media communications company specializing in digital media, associations and events in the mobile, self-service, digital signage, retail, food service and financial services industries. Online properties include ATMmarketplace.com, DigitalSignageToday.com, FastCasual.com, PizzaMarketplace.com, KioskMarketplace.com, MobilePaymentsToday.com, VirtualCurrencyToday.com, QSRweb.com, RetailCustomerExperience.com and ChurchCentral.com. The company produces executive summits in the fast casual, retail, ATM and mobile payments industries. Its custom media division develops Web sites, premium content and marketing services for associations such as the ATM Industry Association and the Electronic Funds Transfer Association.