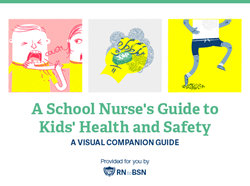 There's more to childhood health than simply understanding what could make them sick.
Houston, Texas (PRWEB) February 25, 2015
In an effort to combat the high number of children and adolescents missing school each year due to preventable illnesses and injuries, RNtoBSN.org has created A School Nurse's Guide to Kids' Health and Safety to help K12 school nurses prepare parents for the common health concerns faced by their children.
From kindergarten to senior year, students are in "pathogen-laden environments" for the majority of their days. Caroline Porter Thomas, RNtoBSN's expert advisor and registered nurse, states, "School-aged children spend between seven and eight hours of their days in rooms full of other children. They share air, they share pens and toys, and they share germs. Even when a child has no visible symptoms, they could be passing a cold on to their friends."
Germs can easily pass from one person to the next. However, children may be unwell days before they show symptoms. Depending on the illness, incubation periods can last anywhere from one to 21 days. Symptoms of the seasonal flu usually develop 1-3 days after a child comes into contact with the germs, and they can spread it to others at the onset of symptoms. If left untreated, the flu and other illnesses could lead to hospitalization. As of early February, the CDC's Influenza Division reported 539 cases of the flu putting school-aged children in the hospital for the 2014-15 flu season.
A better understanding of how common illnesses are spread can, in most cases, prevent them from escalating to the point of hospitalization. "That's the kind of resource we made," Porter Thomas states. "We saw a need for an all-in-one resource that could be used by school nurses to show parents what symptoms to look for, how to keep their kids safe and healthy and when to contact a healthcare provider."
RNtoBSN's resource is accompanied by a 17-page, interactive companion PDF that provides high-quality and relevant information in an easy-to-follow and well-organized manner. It teaches parents how to look for and treat head lice, pink eye and the chickenpox; how to spot the differences between the common cold and the flu; and how to keep their children well through proper hand washing and mouth covering.
The companion also provides students with the tools they need to make healthy eating choices and track their daily physical activities. "There's more to childhood health than simply understanding what could make them sick," Porter Thomas explains. "Teaching kids how to make healthy food choices and encouraging them to exercise at least 60 minutes a day while they're young will translate into good habits as they get older."
The PDF can be printed and posted in a nurse's office, handed out to parents as an at-home reference or printed a section at a time to promote health lessons at school and at home.
About RNtoBSN.org
Founded in 2014 in response to the Institute of Medicine's call for more Registered Nurses to earn their bachelor's degrees, RNtoBSN.org is dedicated to connecting nurses with resources they need to advance their educations and careers.
RNtoBSN's online materials have been referenced by state and national nursing organizations like the Society of Pediatric Nurses, state boards of education and health and universities large and small from the University of Michigan to California's Claremont Colleges.