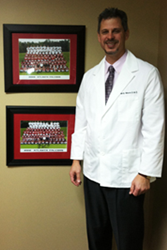 Buford, GA (PRWEB) February 23, 2015
Dr. Randolph S. Moore recognizes Gum Disease Awareness Month this February, by urging Buford, GA residents to seek early treatment for the disease. He encourages patients to schedule and evaluation in order to improve their oral health. Though initially painless, gum disease causes a great amount of damage to the teeth, gums and even bone. Those who wait for pain to tell them that they have a problem face more damage and a longer recovery than those who obtain treatment before they feel discomfort.
Laser gum surgery is an effective and minimally invasive gum disease treatment. It allows Dr. Moore to give his patients the help they need with minimal discomfort. Thanks to laser treatment, Dr. Moore's patients typically carry on with their normal activities immediately following their appointments. It is common for patients to be nervous when visiting the dentist, but this procedure gives no cause for extra concern. It requires only a local anesthetic to keep patients comfortable, and there is no cutting involved. Dr. Moore uses the laser in open pockets of infection to remove diseased tissue and stimulate healing.
Often due to fear of dental work, many people in Buford, GA ignore gum disease rather than seeking needed treatment. Dr. Moore wants to break this trend out of a desire to keep patients as healthy as possible. The disease is not painful until its late stages, a lack of pain is not an indicator that the problem is insignificant. What begins as simple inflammation too often ends up as bone deterioration and tooth loss.
Laser gum surgery is a valuable resource. With it, Dr. Moore is often able to save teeth from the advanced stages of gum disease. However, the best way to fight gum disease is to catch it early. Dr. Moore invites everyone in Buford to take advantage of Gum Disease Awareness Month by scheduling a consultation. Anyone interested may learn more by visiting his website http://www.smilemooredentistry.com or contacting his office by phone.
About the Doctor
Dr. Randolph S. Moore is a general dentist offering personalized dental care for patients in the Buford, GA area for over 20 years. Dr. Moore received his degree from the University of Alabama in Birmingham, and completed his residency at the Veterans Hospital in Birmingham. Dr. Moore is active in the dentistry field and is a member of the Georgia Dental Association, the American Dental Association, American General Dentistry, American Academy of Cosmetic Dentistry and ICOI (International Congress of Oral Implantologists). To learn more about Dr. Moore and his dental services visit their website at http://www.smilemooredentistry.com/, or call (770) 545-6141.