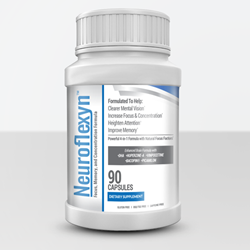 Neuroflexyn is now available for direct purchase to consumers in the United Kingdom.
Los Angeles, CA (PRWEB) February 24, 2015
Neuroflexyn is a smart supplement product that United States consumers have been lucky enough to purchase direct for some time now. However, in the United Kingdom, access has been limited. This is no longer the case. Neuroflexyn is now available for direct purchase to consumers in the United Kingdom.
The supplement Neuroflexyn is manufactured in the United States at a Food and Drug Administration licensed, cGMP (Good Manufacturing Process) facility. This is a "seal of approval" certifying the supplement is produced in a high-quality location. The exact same product that US residents have been able to take advantage of for years is now available for UK customers directly from the Neuroflexyn website. There may be other purchase options available for UK residents in future weeks and months as well.
Neuroflexyn's availability to consumers in the United Kingdom is a big step forward for nootropics. Nootropics may be nothing "new", but for a brand to reach a customer base around the world is meaningful and means that nootropics are beginning to become better known by the general public. Only in recent years have nootropics become well-known in the US, and the Neuroflexyn team hopes its release in the UK spreads the popularity in Europe as well.
Like the United States, the UK is a country where people work full-time jobs, play sports, attend school and otherwise stay very busy. It sometimes takes a little bit of a boost to get through the day successfully, and nootropics often provide just this. While there are a number of nootropic options out there, Neuroflexyn is a simple choice—providing a number of natural boosters in one simple supplement.
Neuroflexyn offers many benefits. For many people, Neuroflexyn can help improve focus, conquer distraction, stabilize moods and boost performance. Unlike some supplements, Neuroflexyn is not a caffeine pill, so when taken it does not cause a jittery feeling or crash afterwards. Neuroflexyn is a natural product that offers an increase in productivity and performance day after day at work and throughout other activities.
Since Neuroflexyn is not like a normal vitamin supplement or caffeine boost, it enhances both short-term and long-term performance, clarity, focus and even brain health. The combination of ingredients in Neuroflexyn helps increase the brain's production of acetylcholine and enhances neurotransmitter function.
Other nootropic-based smart supplements have been available in the United Kingdom for some time now, but unlike Neuroflexyn, they do not share their ingredient list with consumers. The blend of nootropics in Neuroflexyn is not a secret. Sharing the included ingredients is important as it proves the manufacturer's dedication to transparency and commitment to excellence in research and development of brain enhancing products.
###
More information about nootropics and the Neuroflexyn smart supplement is available at http://www.neuroflexyn.com as well as at Neuroflexyn's social media profiles on Facebook and Twitter.