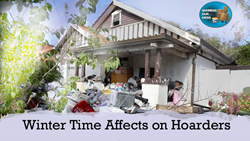 Address Our Mess can Help solve the affects of winter on hoarders
Boston, MA (PRWEB) February 24, 2015
Winter time is here in New England, and this generally means that people are wanting to stay indoors to keep warm and away from the cold winter weather. However, one type of person who is consistently wanting to be indoors, but can often find themselves outside of their home is a hoarder. Hoarders are people who gather items that they see as valuable from a monetary or emotional standpoint. Many of these problems can be alleviated with a hoarding cleanup company like Address Our Mess. In some of the more extreme cases it could possibly cause a problem that might be harmful to a person's physical or mental well-being.
A person who has been hoarding can potentially face the possibility of eviction, because the items that they are hoarding can potentially affect the other residents of their building. The hazards that the hoarder can have on residents of an apartment building is that they could be hoarding items that are flammable. If these items are near a heating source, it may cause the risk of a fire. Also, with individuals' residences being closed up and little air circulating, if a person was hoarding biological material, the bacteria which is potentially harmful could spread diseases to other residents of the building. All this could result in the hoarder being evicted into the cold of winter without hoarding cleanup taking place.
Another problem is that the hoarding items could block areas where warmth might come into the hoarder's home. This could present a twofold problem one is that the warmth would not be able to warm the property to a warm enough temperature. Without the warm temperature a person can suffer from the ill effects of cold weather, with the potential of the onset of hypothermia. Another problem as mentioned previously is that the threat of fire, could cause the death of the hoarder with smoke inhalation. What happens if the items are truly overwhelming the hoarder?
The hoarder in more extreme cases can be forced out of their residence by having too many items, and having almost no space to move. Due to the hoarder's compulsion to gather and protect those items it could lead to them being forced from their home. These situations that can occur in the extreme cold, can cause the hoarder to be faced with a deadly decision, because they can result in death caused by exposure. These situations are truly dire and need to be taken care of immediately by a hoarding cleanup company. There are companies out there that can help, an example of this is Address Our Mess.
Address Our Mess is a specialized hoarding and clutter cleanup company that services over 25 states. Their crews of technicians and case managers can help resolve even the most severe hoarding scenarios and return the property to a livable and safe condition. They can help make sure that the hoarders stay warm, by returning their home to a place of shelter from the coldest days of the winter season. Our crews can work in some of the more severe weather conditions and are trained to deal with the variety of different challenges they come up against