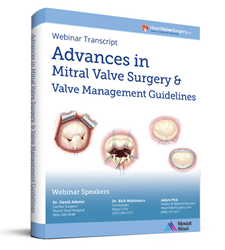 New York City, New York (PRWEB) February 24, 2015
HeartValveSurgery.com, the largest online resource and community of patients with heart valve disease, announced today that a complimentary eBook and video playback of the "Advances in Mitral Valve Repair & Valve Management Guidelines" webinar is now available. You can download the eBook and watch the video by clicking here.
HeartValveSurgery.com recently hosted a live, online webinar to educate patients about mitral valve disease and treatment options including mitral valve repair, also known as mitral valve reconstruction, and mitral valve replacement.
The featured speakers of the webinar included Dr. David Adams and Dr. Rick Nishimura. Drs. Adams and Nishimura also shared critical insights about recent release of the 2014 AHA/ACC Guidelines for the Management of Patients With Valvular Heart Disease.
David Adams, MD, is Cardiac Surgeon-in-Chief for the Mount Sinai Health System and the Program Director of The Mount Sinai Hospital's Mitral Valve Repair Reference Center, which has set a national benchmark with > 99% degenerative mitral valve repair rates. The Mount Sinai Hospital, is one of the top 10 hospitals in the nation for cardiology and heart surgery, according to the U.S. News and World Report. To learn more about Dr. Adams, click here.
Rick Nishimura, MD, is a Professor of Medicine at the Mayo Clinic. A cardiologist, Dr. Nishimura is a lead author of the 2014 AHA/ACC Guidelines for the Management of Patients with Valvular Heart Disease.
"With 2,000 eBook downloads in the past 72 hours, the community response to this webinar has been extraordinary," noted Adam Pick, a patient and founder of HeartValveSurgery.com. "The eBook, which contains the webinar transcript, and the video playback will expand the global reach of this very important, educational event."
During the webinar, Drs. Adams and Nishimura provided a comprehensive overview of mitral valve disorders (e.g. mitral valve prolapse, rheumatic disease, Barlow's disease), treatment options and valve management guidelines used by clinicians to diagnose, to manage and treat patients with valvular disorders. The webinar concluded with an interactive "Questions & Answers" session among the Dr. Adams, Dr. Nishimura and the webinar attendees.
To download the free eBook and watch the video, please click http://www.heart-valve-surgery.com/heart-surgery-blog/2015/02/18/free-ebook-advances-mitral-valve-webinar/
About HeartValveSurgery.com
Founded by Adam Pick, a former patient, in 2006, HeartValveSurgery.com educates and empowers patients with valve disease. This unique website includes a social network, a surgeon finder, a valve clinic directory, an interactive blog, an educational library, and a book. Last year, HeartValveSurgery.com received over one million visits.
For more, please visit http://www.HeartValveSurgery.com.
Contact information:
Contact HeartValveSurgery.com:
Robyn Podell, Director of Communications
(310) 721-0587
robyn(at)heartvalvesurgery(dot)com