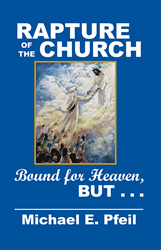 With the prevailing Pre-Tribulationist teaching, misinformed Christians may think they have missed the Rapture as they see these events unfold
DALLAS (PRWEB) February 24, 2015
Of course when considering the Rapture, the first question to pop into one's mind is: when?
A former engineer, Michael E. Pfeil scrutinizes every detail of biblical prophecy to establish a sequence of events that will precede the Rapture. In his new book "Rapture of the Church: Bound for Heaven, BUT . . ." Pfeil uses his expertise in end-times prophecy to show that although the Rapture cannot be dated, many of the events that most Christian leaders claim are God's judgments, are actually the actions of the Antichrist before God begins his end-time judgments. Knowing the difference between the Antichrist's actions and God's judgments is critically important, so that Christians will remain faithful and not erroneously think they have been "left behind."
"Millions of Christians see how this world is fast approaching its end," Pfeil said. "However, most have been promised that they won't have to worry about any events after the prophesized peace treaty. This false promise will leave them unprepared."
Pfeil challenges the idea of the Pre-Tribulation Rapture, which is the prevailing American position in Christian eschatology—the study of Biblical prophecies regarding the end of days. In his book, Pfeil charts more than 50 end-time events that must happen before the Rapture occurs, to prove the Pre-Wrath position.
"I demonstrate that the Rapture will occur after the peace treaty, but before God's end-time judgments begin," Pfeil said. "Unlike the proponents of the Pre-Trib rapture, I show that Christians will live to see many of the events that will occur after Daniel's seventieth week begins. With the prevailing Pre-Tribulationist teaching, misinformed Christians may think they have missed the Rapture as they see these events unfold."
"Rapture of the Church" uses an informed and consolatory approach to discuss biblical prophecy in a way that is accessible to both theologians and lay-people alike.
For more information, visit http://www.SharpFocusMinistries.com
"Rapture of the Church: Bound for Heaven, BUT . . ."
By Michael E. Pfeil
ISBN: 978-1-4497-9981-6
Available in softcover, hardcover, e-book
Available on Amazon, Barnes & Noble and WestBowPress, and Sharp Focus Ministries
About the author
Michael E. Pfeil has long been engaged in Bible teaching and personal evangelism. He is strongly committed to intercessory prayer and providing encouragement to fellow Christians. Taking two years away from his engineering career, Pfeil pursued studies at Talbot Theological Seminary. He has a bachelor's degree in theology from Trinity College of the Bible. He and his wife, Arlene, make their home near Dallas, Texas.
For review copies or interview requests, contact:
Matt VanScoik
mvanscoik(at)bohlsengroup(dot)com | 317.602.7137