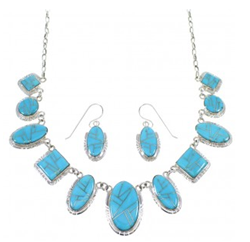 The green and blue gemstones are definitely going to be the 2015 stones to wear
Phoenix, AZ (PRWEB) February 23, 2015
The Oscars is always guaranteed to set the standard for jewelry in the coming year. Starlets are photographed wearing bracelets, earrings, necklaces, and more that people will be on the lookout for to emulate. The 2015 Oscars dazzled with the appearance of precious gemstones on multiple celebrities.
SilverTribe.com, which features a variety of precious gemstones on Native American and Southwestern jewelry, had spokesperson Chris Anderson assess the jewelry on the runway this year.
"Turquoise was the first gem I saw standing out," said Anderson. "Cate Blanchett wore a multi-layered necklace made of turquoise gems that tied together her black ensemble and pale-blonde features
"Emerald was a close runner-up," continued Anderson. "Scarlett Johansson wore a bib-styled necklace of emerald gems. The green and blue gemstones are definitely going to be the 2015 stones to wear."
Though statement necklaces were the eye-catching pieces of the night, Naomi Watts and America Ferrera stood out by adorning dangle gem earrings in blue sapphire and teal turquoise, respectively.
"SilverTribe has long featured turquoise, sapphire, and other blue and green precious stones in subtle and statement styles," said Anderson. He adds with a laugh, "Thankfully, our pieces are more affordable than the ones you saw on the red carpet."
SilverTribe.com, the leader in online Native American and Southwestern jewelry, features a huge array of turquoise, sapphire, emerald, coral, and other precious stones in all styles of jewelry. Many pieces similar to the stylish Oscar beauties can be found for a fraction of the price on SilverTribe, with the authenticity of a quality gemstone still incorporated.
"Gemstones never truly go out of style, historically they're seen in nearly every culture," noted Anderson. "However this year's Oscars looks show that turquoise and other blue-hued gems are going to be even bigger this year."
SilverTribe.com offers free shipping and simple returns, along with hundreds of jewelry pieces to choose from so that anyone inspired by the Oscars can model their favorite star styles. Visit SilverTribe.com to see the latest in gemstone fashion.