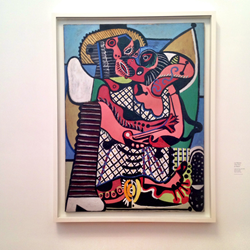 You will marvel at Picasso's personal art collection.
Paris, FR (PRWEB) March 02, 2015
Easy Pass Tours, one of the premier tour providers in Paris, is excited to announce a new upcoming walking tour experience in the famed Le Marais historical district. Launching May 1, the tour will cover history and attractions in the district, and culminate at the recently renovated Picasso Museum.
Le Marais is a famous historical district in Paris. Home to the vibrant Jewish quarter, the district has a rich cultural history, but is also home to modern establishments, upscale boutiques, and a thriving nightlife. The walking tour, which takes 90 minutes, will cover the district's history and notable attractions.
At the culmination of the walking tour, guests will arrive at the Picasso Museum. Priority access is included with the tour, and guests can skip the lines and go directly into the museum. The Picasso museum is a 17th century townhouse featuring Picasso's personal collection of his life's work. After years of renovation, the gallery has grown and contains previously unseen items, including 5,000 of Picasso works as well as his personal art collection.
"You will marvel at Picasso's personal art collection, including works by Renoir, Matisse, and Cezanne," says Hannah LaSala, Operations Coordinator at Easy Pass Tours.
The museum recently re-opened after its five-year renovation period.
"The Picasso Museum is now open after a five-year refurbishment. The gallery has tripled in size and contains previously unseen items from the Picasso archives," says Eva Brady, Operations Manager at Easy Pass Tours.
To book your Easy Pass Tour of The Marais and gain priority access to the Picasso Museum, visit Easy Pass Tours at http://paris.easypasstours.com/tours/skip-the-line-picasso-and-marais-tour
About Easy Pass Tours:
Easy Pass Tours allows visitors to "Skip the Line" at Paris' top attractions saving valuable vacation time. It is the mission of Easy Pass Tours to provide safe, fun and unforgettable experiences through superior customer service that creates memories and smiles that last a lifetime. Easy Pass Tours offers tourist services, particularly excursions, tours, visits, recreational, cultural and gastronomic discovery activities, through http://www.easypasstours.com, which lists a tour menu of options with prices ranging from €45/person to €200/person. Every tour provides an exclusive element. One of the features on the site is a prominent "Specials" section for guests to view the tours that are on sale for a limited time. All tours require reservations in advance and can be booked through the website with a credit card.