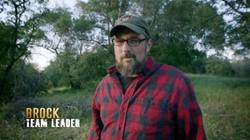 "Absolutely LOVED Creature Weekend! Had a blast guys, thanks so much … for putting together such a great event! I will definitely be there next year... " – Shannon LeGro, Creature Weekend Attendee
Cambridge, OH (PRWEB) February 25, 2015
Creature Weekend is proud to announce that, Bill Brock, the lead investigator of the Destination Channel's reality show "Monsters Underground" will be joining the speaker lineup at the 2015 Creature Weekend Conference held at Salt Fork State Park in Cambridge, Ohio from May 1-3, 2015.
Bill Brock is a Cryptozoologist who has been researching Sasquatch and other Cryptids for years. Brock is the Team Leader on Destination Americas Television show Monsters Underground. Brock and his team travel the country to check out sightings of cryptids like the Mapinguari and the Draco. Since "Monsters Underground" aired, Brock has not slowed down. He put together Team Rogue in Maine to continue the search. Recently Team Rogue investigated the Turner Bigfoot Sighting. This sighting is very interesting as it seems too good to be true. But is it? The team is still getting sightings in Turner, Maine. All this confirms something seems to be in the woods of Turner, Maine. The team just returned from a 10 day road trip researching cryptids in the Ohio Valley. Brock has contributed Possible Sasquatch tracks found in the Chain Of Ponds area in Maine to the Cryptozoology museum in Portland Maine. The tracks can be viewed at the Museum. Brock is also a film maker with multiple projects going on including a film about a Crypto/Paranormal Road Trip taken across the country. Team Rogue will investigate cryptids such as the Mothman on this film. Be sure to check it out, Crypto-Paranormal Road Trip.
Bill will be giving a presentation at the Friday Night's Dinner with the speakers event on May 1st, 2015. The presentation will be on "The Use of Drones in Cryptozoological Research". Drones have become an accepted work tool in other industries such as real estate and construction, so why not Cryptozoology? This presentation is sure to educate and entertain. Bill Brock will be available for autograph signing and photo opportunities throughout the weekend.
Due to the addition of Bill Brock to the speaker lineup, there will be some schedule changes. Chad Arment's presentation on "Lesser Known Cryptids" and his "Primer for aspiring Cryptozoology Authors" will be moved to Saturday during the main conference. Also, the conference on Saturday, May 2nd, will begin at 12:30 instead of 1:00 as previously announced. The schedule is constantly evolving, so check back frequently for updates.
About Creature Weekend: Creature Weekend is the nation's largest annual Cryptozoology Conference held in Cambridge, Ohio. Each year, speakers from a cross-section of the field of Cryptozoology give presentations on various cryptids including Bigfoot, Yeti, Dogmen, and other creatures which defy science and the imagination. Creature Weekend 2015 will be held on May 1-3, 2015 at Salt Fork State Park in Cambridge, OH. Discounted Conference Tickets are available online while they last. For more information and a complete schedule of events, please visit http://www.creatureweekend.com/ or email martin(at)creatureweekend(dot)com or call 740-888-1313.