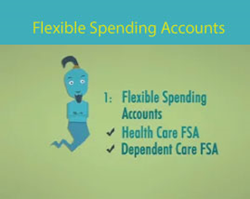 BenefitsBang videos help employers educate their workforce on the money-saving benefit options available.
Atlanta, Georgia (PRWEB) February 25, 2015
Now is the perfect time for employers to educate employees about how convenient and easy it is to use a Flexible Spending Account (FSA). Benefits Bang!'s new "A Saving Fairy Tale" video tells an engaging story about a family that is spending more on healthcare than they would like to. They realize that their wish of depositing pre-tax earnings into an account that can be used to pay for both health care and dependent care expenses is granted with an FSA.
Benefits Bang! employee education videos can be posted on an organization's Intranet to communicate the value of important benefits that will help employees and their families save money in this era of escalating costs.
"As healthcare costs continue to rise, it's important for employers to ensure that employees understand how they can minimize out-of-pocket expenses and make the most of the benefit programs offered by their employer," said Jill Feibus, Managing Consultant at Benefits Bang! "Now more than ever, it's critical for employees to know that establishing a Flexible Spending Account will enable them to set aside pre-tax earnings to fund eligible healthcare and dependent care expenses incurred during the year."
With videos such as "A Saving Fairy Tale" and other benefits presentations, Benefits Bang! can help employers get the most from their employee benefits investment and help employees make the most of the programs provided.
About Benefits Bang!
Benefits Bang! is a leading provider of cost-effective employee communications and education. With an ever-expanding library of video clips on open enrollment and benefits, Benefits Bang! allows employers to customize existing video clips and presentations to meet their needs starting at only $500. Benefits Bang!'s consultants, graphics designers, and PowerPoint experts have been working in the area of benefits communication and education for more than a decade. Visit http://www.benefitsbang.com for more information.