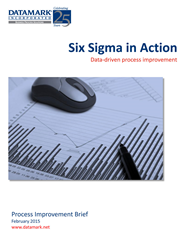 El Paso, Texas (PRWEB) February 25, 2015
DATAMARK, Inc., a leading provider business process solutions, including outsourced bilingual contact center services for Fortune 500 companies and other large enterprises, has released a new information brief highlighting DATAMARK's application of the Six Sigma quality improvement methodology to business processes.
Originally developed by Motorola and popularized by General Electric, Six Sigma improves process quality by focusing on reducing variation to a point of virtually error-free output.
DATAMARK's information brief offers readers a concise and easy-to-understand explanation of the Six Sigma methodology, an understanding of the DMAIC (Define, Measure, Analyze, Improve and Control) problem-solving approach, and real-world examples of Six Sigma applied to business process improvement.
"Six Sigma in Action: Data-Driven Process Improvement" is available for complimentary download at this link:
http://info.datamark.net/Six-Sigma-in-Action.html
About DATAMARK
Celebrating its 25th year in business in 2015, DATAMARK, Inc. is a leading business process outsourcing company specializing in high-volume digital mailroom management, document processing/document management, bilingual (English/Spanish) contact centers and process improvement consulting for Fortune 500 companies and other large enterprises.
Headquartered in El Paso, Texas, DATAMARK employs nearly 2,200 people in its U.S., Mexico and India facilities. For more information, visit http://www.datamark.net. Follow industry news and trends at DATAMARK's Outsourcing Insights blog at http://www.datamark.net/blog.