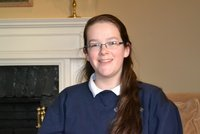 "I view technology as a leadership tool...It is vital that we show girls from the very beginning that there is no limitation to what you can do in this field based on your gender."
(PRWEB) February 25, 2015
The National Center for Women and Information Technology (NCWIT) "Aspirations in Computing" Awards salute young women at the high school level who have demonstrated leadership and potential in computer science, a field under-represented by women. National and regional winners receive networking opportunities to parlay their love of computer science and technology into college studies and, hopefully, careers in the field.
Emily Oleisky, a Garrison Forest School (GFS) junior, has won a national NCWIT "Aspirations in Computing" Award. One of only 34 young women across the country and the only student in Maryland to receive a national award, Emily was a NCWIT regional award winner last year. GFS classmate Jackie Magaha won a regional NCWIT award this year and last.
"Technology as a leadership tool that can bring people together and help them in so many ways," says Emily. "It is vital that we show girls from the very beginning that there is no limitation to what you can do in this field based on your gender." On March 7, Emily travel to Charlotte, N.C. for the national award ceremony. She will receive $500 prize, a laptop and numerous internship and networking opportunities.
Emily's interest and experience in computer science runs deep. A member of the GFS Robotics team since 4th grade, she is co-captain of the Upper School GFS team. This year, she co-founded the school's first-ever Computer Science Club and is one of the first students to take Advanced Placement Computer Science at GFS. She and Jackie co-chaired the GFS "Hour of Code" program in December 2013. Last fall, Emily placed first in the team contests offered as part of the regional Young Engineers and Scientists Seminar (YESS) program for high school students, sponsored by Northrop Grumman Electronics Systems. GFS classmate Brianna Thewsuvat placed second—in previous years, young men have won the competition.
"Emily's NCWIT national award is a wonderful reflection of her intellect, leadership and commitment to sharing her passions in the STEM field with younger students," says Dr. Kim Roberts, Head of Garrison Forest School. "Emily contributes to GFS in so many ways, academically, artistically and as a student leader."
This year, Emily was selected for the school's prestigious Women in Science and Engineering (WISE) program with The Johns Hopkins University. WISE places GFS students in research labs for a semester-long mentorship. In the Whiting School of Engineering's Biomedical Engineering Department's Neuroengineering and Bioinstrumentation Lab, she assists a faculty-led project working on the creation of a machine to stimulate the human olfactory system using a varying series of pharmaceuticals. The ultimate purpose of the machine is to interrupt the neurodegeneration present in diseases such as Alzheimer's, in which loss of sense of smell is an early symptom. The project incorporates neurology with biology, chemistry, mechanical engineering and electrical engineering. "I am working on building a prototype that I have created using a micro-controller," she explains. "WISE has shown me how every STEM discipline is inter-related and that you need an understanding of all fields to flow between them."
In her free time, Emily serves on the leadership committee for ProjectCSGIRLS, a computer science competition for middle-school-aged girls founded by high school girls, and volunteers at Baltimore's Sinai Hospital, where she was for its Emerging Leadership Program. Emily has volunteered in the hospital's Orthopedic Oncology and Clinical Engineering Departments and Engineering Department. At GFS, she also dances in the Advanced Dance program, has performed in every school musical since Middle School and sings in the Chamber Choir.
This year's GFS NCWIT Regional awardee, Jackie Magaha, a perennial champion at the annual Johns Hopkins RoboChallenge, began work in June 2014 in the Hopkins Whiting School of Engineering's Locomotion in Mechanicals and Biological Systems (LIMBS) lab focuses on sensorimotor integration and control in weakly electric fish, work that she is continuing through 2014-15 as a WISE participant.