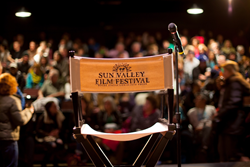 Sun Valley, Idaho (PRWEB) February 24, 2015
The Sun Valley Film Festival, presented by Zions Bank, announced its film lineup today. The Festival will honor Hollywood legend Clint Eastwood with its inaugural Lifetime Vision Award at the 4th annual Festival, March 4-March 8, 2015. The SVFF Lifetime Vision Award pays tribute to an individual who has provided the keen insight, influence and initiative to fulfill a creative vision. In addition to the special presentation to Mr. Eastwood, the 2015 Sun Valley Film Festival has added a 5th day of signature programming including Coffee Talks with Bruce Dern and Bill Paxton. More than 60-curated films will screen followed by filmmakers Q&A sessions.
Coffee Talks, presented by Zions Bank, are free, standing-room-only discussions featuring two-time Academy Award® nominee Bruce Dern, legendary actor with a long list of feature film credits and honors, and Bill Paxton, who has starred in films such as Apollo 13, Twister, Titanic and HBO's Big Love.
Mr. Paxton joins the Festival's Hollywood Heritage series with a special screening of Apollo 13.
The Film Lab, presented by Tito's Handmade Vodka, is where host, Michael Tully (Hammer To Nail), will bring together the director, producer, and writer, the creative forces behind a movie, in an experimental and potentially combustible fashion for the Film Lab. This year's film is Coming through the Rye, a true story about a boy who runs away from boarding school to find J.D. Salinger. New to the festival this year, filmmakers reveal the real secrets behind the project all under scrutiny of the audience's microscope.
Screenwriters Lab, presented by Boise State University, will feature Jim Rash and Nat Faxon, the Academy Award®-winning writers of The Descendants and 2014's comedy, The Way Way Back, as hosts. The Screenwriters Lab, one of the many highlights of the Festival, includes The High Scribe screenplay competition, which gives finalists, among other things, an opportunity for one-on-one meetings with some of the industry's finest to discuss their work. The 2015 High Scribe judge and mentor will be film, television, and stage actor, Will McCormack. The High Scribe winner will be announced during the lab on March 5th, 2015, and a scene from their script will be brought to life.
SVFF Awards Bash, presented by National Geographic, closes the Festival in style with the announcement and presentation of awards in a variety of categories to the year's outstanding films. The awards ceremony will be followed by a live performance by The Weeks. Hailing from Jackson, Mississippi, indie-rock band The Weeks, who will bring their brand of southern-fried rock to Sun Valley. Formed while teenagers in 2006, they have quickly amassed a loyal following with their soulful country rock sound and have recently wrapped a European tour with The Kings of Leon.
About The Festival
The Sun Valley Film Festival, presented by Zions Bank, is celebrating its fourth year. The event has quickly become a filmmaker's festival in a place steeped in cinematic history, with a proven knack for drawing industry heavyweights and independent talents to an intimate locale far from the Hollywood scene. The combination of cutting-edge programming and bona-fide insider access in a fun, relaxed atmosphere is making the Sun Valley Film Festival a rising star in the world of destination festivals. For tickets and more information on the festival go to http://www.sunvalleyfilmfestival.org.