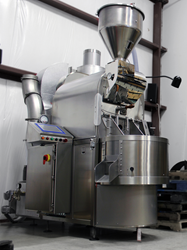 "With our new Loring, we'll be able to provide our customers with a better cup of coffee that's just as strong, if not stronger,"
Round Lake, New York (PRWEB) February 25, 2015
Death Wish Coffee has announced it has invested in one of the most efficient coffee roasters on the market, a Loring S35 Kestrel. Known for producing the strongest coffee in the world, Death Wish is also dedicated to sustainability, reducing its environmental impact and protecting the environment.
"The new roaster is incredibly consistent and really efficient," stated John Swedish, the company's production manager. "It should cut our greenhouse gas emissions by up to 80%."
The new roaster will greatly enhance Death Wish Coffee's current roasting operation, and provide the capability to double production through 2015 without any sacrifices in quality or taste. The Loring S35 is expected to be completely set up and operational by the end of March 2015.
The Loring S35 Kestrel is rated as one of the world's most efficient coffee roasters, and typically reduces the amount of C02 emissions by up to 80%. The Flavor Lock Roast technology used in the Loring roaster provides very consistent results and amazing flavor in the finished product. Death Wish Coffee expects the addition of this roaster to improve the taste and strength of all the company's coffee lines, while ensuring the company can uphold its values.
"With our new Loring, we'll be able to provide our customers with a better cup of coffee that's just as strong, if not stronger," explains owner Mike Brown.
Death Wish Coffee uses both Arabica and high-quality Robusta beans to create a coffee that is not only extremely flavorful, but highly caffeinated, as well. The company's coffee is Fair Trade, certified-organic and now roasted on the world's most efficient roaster.
For more information about Death Wish Coffee or the company's roasts, visit http://www.DeathWishCoffee.com.
About Death Wish Coffee: Death Wish Coffee Company is a six person coffee company owned by Michael Brown. Started in 2012 out of Saratoga Coffee Traders in Saratoga Springs, New York, Death Wish Coffee grew out of the coffee shop and into its own facility in 2013. Death Wish Coffee Company produces "The World's Strongest Coffee" and was the #1 selling coffee on Amazon during 2013 and 2014.