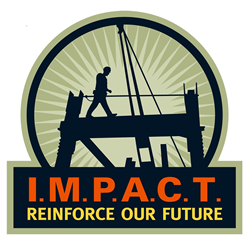 "We are proud of all of the finalists in the first-ever Project of the Year award competition," said IMPACT CEO Kevin Hilton. "We are so inspired by the projects submitted, and look forward to see even more submissions next year."
Washington (PRWEB) February 26, 2015
The Iron Workers and the Ironworker Management Progressive Action Trust (IMPACT) honored the safest, most complex and most creative ironworker projects of 2014 on February 24, 2015, at the North American Iron Workers/IMPACT Annual Meeting in Las Vegas. Anthony Pangere of the Pangere Corporation and Ronald Ware, Jr., of Iron Workers Local 395 in Hammond, Indiana, accepted the award.
The decision was made by a panel of independent judges who critiqued each submission on the safety, complexity, and ingenuity used to achieve success.
"We are proud of all of the finalists in the first-ever Project of the Year award competition," said IMPACT CEO Kevin Hilton. "We are so inspired by the projects submitted, and look forward to see even more submissions next year."
"Our aim is to make sure all workers come home safely each day," added Iron Workers General President Walter Wise. "The Iron Workers and IMPACT are excited to see so many projects completed with such complexity, ingenuity and with a focus on safety."
"The Project of the Year award is a source of pride for us," said IMPACT Co-Chair Bill Brown. "It shows our dedication to creating the safest possible environment for ironworkers, so that we in turn can provide the highest level of service to end-users and make sure everyone goes home safely to their friends and families."
In order to maintain the safest conditions and ensure no disruption to production, Pangere required ironworkers to communicate the facilities movements to work crews before they happened. Communication was key between ironworkers and plant operators to avoid the dangers of hot metal splashes and moving equipment. Pangere supervision attended all production meetings to ensure proactive planning around plant operations and held meetings with all ironworkers before each shift to discuss changes in the environment and potential hazards. In addition, Pangere will send ironworkers to the Construction Advancement Foundation a local training facility for additional safety courses.
The Project of the Year award honors the safest, most challenging projects completed in the last calendar year. Numerous contractors go above and beyond the call of duty to not only provide safe conditions for their workers on challenging jobs with unique circumstances, but to also demonstrate ingenuity and creativity. The Project of the Year award spotlights contractors' outstanding projects for their unique nature and their commitment to excellence in safety.