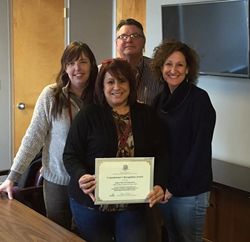 "This is awesome! This program could not have been successful without everyone who did the modules and participated. CCAR Rocks!" ~Amy Yazmer, CCAR ROES Coordinator
(PRWEB) February 27, 2015
The Connecticut Community for Addiction Recovery (CCAR) recently received an award for excellence, along with Alcohol and Drug Recovery Centers (ADRC), for its shared Recovery Oriented Employment Services (ROES). Together, these organizations were honored with the 2014 Commissioner's Recognition Award by the CT Department of Mental Health and Addiction Services. Last year, ROES achieved the highest rate of employment in its efforts to assist people who are recovering from alcoholism and other drug addiction. More than half of ROES participants (55%) were successfully employed - the highest rate among DMHAS funded vocational programs. This achievement is remarkable given the many barriers recovering individuals face in gaining employment.
CCAR is proud of its staff who dedicate themselves to helping people create a life that sustains recovery from alcohol and other drug addiction. Holding a job is an anchor many of us rely on to be successful community members and we salute those who stepped into work roles as ROES participants.
CCAR helps people rebuild their lives through our many services that promote healing from alcohol and other addiction. For more information about Recovery Oriented Employment (ROES) and CCAR, please contact us at: (860) 244-2227.