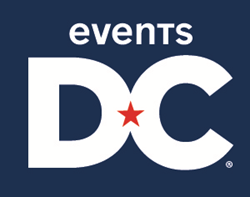 "This is a remarkable program built by the NFLPA and Events DC is committed to providing these players with a first-class learning experience that will assist them in trading in their helmets for a professional career off the field."
Washington, DC (PRWEB) February 23, 2015
Events DC, the official convention and sports authority for the District of Columbia, has teamed up with the National Football League Players Association (NFLPA) to participate in its annual player externship program that began February 16 and runs through March 6. As part of the three-week externship program, New England Patriots' Justin Green and former Baltimore Raven Ryan Bartholomew have been drafted in the Communications and Marketing and Government Relations Departments at Events DC to gain valuable post-NFL career insight and hands-on experience to further their skills in the game of life.
"We are honored for Events DC to be among one of the NFLPA externship host companies," said Gregory A. O'Dell, president and chief executive officer of Events DC. "This is a remarkable program built by the NFLPA and Events DC is committed to providing these players with a first-class learning experience that will assist them in trading in their helmets for a professional career off the field."
At Events DC, Green and Bartholomew will have the opportunity to define and sharpen marketable tools and further explore the business landscape across the hospitality, sports and entertainment industry from inside the local Washington, DC market. The goal of the NFLPA externship is to offer players the ability to gain experience for their personal and professional careers beyond the locker room.
"Rigorous training, demanding schedules and other team obligations make it difficult for professional athletes to focus on unlocking their passions outside of professional sports. The NFLPA is grateful to Events DC and the other 2015 externship host companies for providing this immense learning experience for our players to explore their interests," said Leslie Satchell, NFLPA senior manager of player affairs and development and NFLPA Externship supervisor. "The union designed this program for our members to get experience away from the locker room and build a strong network of support to assist in the self-discovery that will help them get ready for life after football."
The NFLPA is currently in its second year of the externship program. Select players are invited to Washington, DC for a three-week educational and training opportunity at a variety of local companies, offices and organizations. For more information on the NFLPA externship program, visit: https://www.nflpa.com/active-players/player-development-programs-and-services/nflpa-externship.
About the NFL Players Association
Established in 1956, the National Football League Players Association (NFLPA) is a non-profit, professional sports union. The NFLPA represents all NFL players in matters concerning wages, hours and working conditions and protects their rights as professional football players; ensures that the terms of the Collective Bargaining Agreement are met; negotiates and monitors retirement and insurance benefits; provides other member services and activities; provides assistance to charitable and community organizations; and enhances and defends the image of players and their profession, on and off the field. For more information, visit http://www.nflpa.com.
About Events DC
Events DC, the official convention and sports authority for the District of Columbia, delivers premier event services and flexible venues across the nation's capital. Leveraging the power of a world-class destination and creating amazing attendee experiences, Events DC generates economic and community benefits through the attraction and promotion of business, athletic, entertainment and cultural activities. Events DC oversees the Walter E. Washington Convention Center, an anchor of the District's hospitality and tourism economy that generates over $400 million annually in total economic impact, and the historic Carnegie Library at Mt. Vernon Square. Events DC manages the Stadium-Armory campus, which includes Robert F. Kennedy Memorial Stadium and surrounding Festival Grounds, the non-military functions of the DC Armory and Maloof Skate Park at RFK Stadium. Events DC also built and now serves as landlord for Nationals Park, the first LEED-certified major professional sports stadium in the United States.
For more information, please visit http://www.eventsdc.com.
###