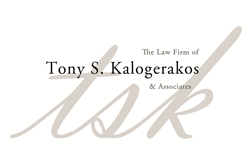 The client was ecstatic.
Chicago, IL (PRWEB) February 25, 2015
A twenty-four year old has been given a second chance in life. Last month, Tony S. Kalogerakos was able to obtain a $1,700,000.00 award for his client for injuries he sustained in a car accident in 2012.
According to court documents and actual treatment, Mr. Kalogerakos was able to produce nationally recognized experts that indicated that future treatment is inevitable, including an economic expert who suggested there might be some loss in wages.
"The prior attorneys on the case were working toward resolving this for a fraction of the amount," said Kalogerakos.
Kalogerakos went on to state, "The client was ecstatic."
Focusing on accident and injury law, Tony Kalogerakos was recently named a Top 40 under 40 Lawyer by the National Trial Lawyers Association for Personal Injury Lawyers, and was further recognized again by Super Lawyers Magazine as a Rising Star in Personal Injury Law.
Injury Lawyers of Illinois is an injury firm founded by Tony S. Kalogerakos. It's practice is limited to Personal Injury and Wrongful Death matters.
To reach Tony Kalogerakos, call (312)929-3807, tsk(at)injuryrights(dot)com, or visit InjuryRights.com.
Case No. 13L9725, Cook County