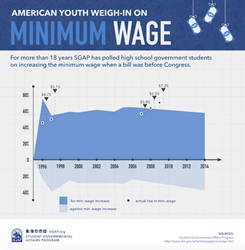 "Minimum wage has been an ongoing discussion in Congress, but in the high school government class there is little debate," said Randy Ford, president and co-founder of SGAP.
Dallas, Texas (PRWEB) February 24, 2015
Student Governmental Affairs Program (SGAP) today announced the results of its latest poll asking high school government students if they believe Congress should pass a bill to raise the federal minimum wage from $7.25 an hour to $10.10. Students from all 50 states were polled, and 57 percent said that they supported the wage increase while 38 percent said they did not because they believed the increase would also increase prices.
Each month, SGAP distributes a nonpartisan newsletter called The Student Forum to more than 100,000 students in government classrooms in all 50 states to update them on current events in Congress. Students are then polled on two issues being debated in Congress. Recently SGAP's editors explained to students both sides of the minimum wage debate.
"Minimum wage has been an ongoing discussion in Congress, but in the high school government class there is little debate," said Randy Ford, president and co-founder of SGAP. "We have polled students on nine separate occasions starting in 1996, spanning five wage increases. Traditionally, students, who are minimum wage earners themselves, and the majority always vote to raise the wage. As minimum wage earners themselves, this is not surprising."
Since 1996 students have overwhelmingly voted to raise the wage, the one exception being in 1997 when only 47 percent of students voted for the increase and 40 percent against. While the amendments in September of 1997 raised the wage from $4.75 to $5.15, they also established the youth sub minimum wage of $4.25 an hour for newly hired employees under age 20 during their first 90 days. From 2006 to 2014, there was a slight decline – from 64 percent to 57 percent – in the support from students for an increase in the minimum wage.
"As minimum wage has been granted, it appears to be less of an issue to high school students," Ford added. "This year's poll results were, however, a little surprising to me as it has been a few years since the wage has been raised."
PAST SGAP MINIMUM WAGE STUDENT POLL RESULTS:
Year Poll Conducted: For a Minimum Wage Increase / Against a Minimum Wage Increase / Undecided
May 1996 : 74 percent / 24 percent / 2 percent
September 1997: 47 percent / 40 percent / 13 percent
April 1999: 59 percent / 26 percent / 15 percent
September 2000: 58 percent / 29 percent / 13 percent
December 2002: 61 percent / 29 percent / 10 percent
April 2004: 59 percent / 29 percent / 12 percent
April 2005: 64 percent / 30 percent / 6 percent
September 2006: 64 percent / 25 percent / 11 percent
December 2014: 57 percent / 38 percent / 5 percent
"SGAP's goal is not only to educate students about the current issues and bills in Congress but also to encourage students to communicate with their elected officials and participate in the process," explains Ford. "Through our SGAP app, students can directly connect with their local representatives and voice their opinions. We want to show students that their viewpoints matter and that government works best when elected officials hear from their constituents."
The opinions of students polled as part of SGAP's survey align with most American adults. In fact, 61 percent of American adults favored raising the minimum wage, according to a Rasmussen Reports survey released in October 2014.
Current issues of The Student Forum can be viewed at http://sgap.org/student-forum-newsletter/. Students enrolled in the SGAP program also can participate in real-time discussions via the SGAP app, available now for download in the Apple App Store and Google Play Store.
About Student Governmental Affairs Program
SGAP, the nonprofit arm of National Write Your Congressman, provides high school government teachers a free, nonpartisan, factual, current events supplement for engaging students in the classroom on the application of bills in Congress. The materials, including a monthly newsletter, online presence and interactive app are designed to empower students to voice their opinions on current issues and become interested in what is happening in the world today. SGAP is currently used in schools in all 50 states reaching more than 200,000 students annually, with an estimated 3.1 million engaged since inception. For more information, visit us at http://www.sgap.org, like us on Facebook.com/sgapvoice or follow us on Twitter @SGAPvoice.
# # #