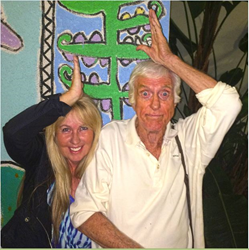 "Every year, close to 100 million sharks are killed for their fins," explains Sea Save Foundation Director Georgienne Bradley.
Malibu, CA (PRWEB) February 25, 2015
Sea Save Foundation's "Give 'Em The Fin" campaign is enlisting ocean advocates worldwide to help stop the practice of shark finning. The effort will collect 20,000 photographs submitted by participants giving the international sign of the shark, a hand held on top of the head symbolizing a dorsal fin. Sea Save overlays each uploaded photo onto a beautiful, ever-growing mosaic painted by wildlife artist Phil Coles.
More information and links to the interactive mosaic, can be viewed here: http://seasave.org/what-we-do/give-em-the-fin/. When complete, Sea Save will display the mosaic on strategically placed billboards around the world, with the tagline "Be Part of the Global Picture: Say NO to Shark Fin Soup".
"Every year, close to 100 million sharks are killed for their fins," explains Sea Save Foundation Director Georgienne Bradley. "This cruel and unsustainable practice, called shark finning, involves cutting the fins from sharks and dumping the still living animals back into the ocean, where they sink to the bottom and slowly die."
Shark finning has increased in the past two decades due to increasing demand for shark fin soup. According to the International Union for Conservation of Nature (IUCN), nearly one-third of the world's 1044 assessed shark species are either "Near Threatened" or "Threatened". Sharks are the top predator in the ocean and are vital to its ecosystem. A huge drop in the number of sharks will have a disruptive effect on the ocean's equilibrium.
Through "Give 'Em the Fin", thousands of global citizen advocates are leveraging the power of the Internet to send a clear message: finning is unsustainable and threatens our fisheries and the health of our oceans. Celebrities, school groups and individuals have already submitted their images to the "Give 'Em the Fin" campaign. Participation is free. To submit a photo, and help Sea Save Foundation save the lives of millions of sharks a year, supporters can visit the Sea Save Foundation website at: http://tinyurl.com/GiveEmFin or submit by email at giveemfin(at)seasave(dot)org.
Individuals and businesses are strongly supporting this effort. Recently Sunset House , Grand Cayman's Hotel for Divers, by Divers, stepped up to the plate donating an 8-day vacation for two for the "most creative and 'fin'tastic" submission. (http://www.sunsethouse.com).
To view and download high resolution images from the Give 'Em The Fin Campaign, please visit: http://bit.ly/1w3E3Od.
About Sea Save Foundation
Sea Save Foundation is a Malibu-based 501 c (3) ocean conservation organization. Sea Save campaigns to protect the world's oceans by raising awareness about the planet's beautiful and fragile marine ecosystems and by advocating change to resolve current challenges. Sea Save works to generate consciousness, encourage stewardship of natural ecosystems, and facilitate change in public policy. Learn more about the Sea Save Foundation at: http://www.seasave.org or on Facebook at:http://www.facebook.com/Seasave or on Twitter: https://twitter.com/seasavetweet.
###
Contact
Scott Matulis
Sea Save Foundation Communications
310.458.1020 (o)
818.451.8918 (m)
publicrelations(at)seasave(dot)org