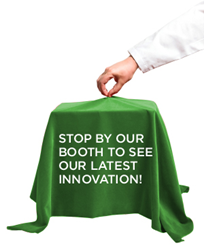 We are excited to show the industry something new that we feel exceeds the demanding requirements we heard from our customers as we developed this product...
Middleton, MA (PRWEB) February 25, 2015
Newcastle Systems will be debuting an innovative new power solution for improving warehouse productivity and efficiency at PROMAT 2015, taking place in Chicago, March 23-26. In addition to three new products, an on-floor seminar, "Opening New Frontiers on Efficiency and Productivity With Mobile Power Technology" will be offered on Monday, March 23rd Theater C of McCormick Place South.
Now in their tenth year of bringing fast productivity wins to a wide portfolio of national retailers, logistics companies and other distributors and manufacturers, Newcastle Systems continues to expand its productivity systems into all spaces of the operations and retail floor with their innovative mobile power solutions. As excess worker motion, product transportation, touches, etc. cost businesses in wasted labor costs, Mobile Power Technology in the receiving, picking, shipping, and/or inventory management process eliminates costly footsteps and creates rapid and significant changes in volumes, accuracy and efficiency. Visitors to PROMAT 2015 can see "where, why & how" mobile power can help obtain measurable productivity gains and significant cost savings without months of planning and implementation.
Kevin Ledversis, Sales Director, who will be present to share more details of the new productivity systems, stated, "We are excited to show the industry something new that we feel exceeds the demanding requirements we heard from our customers as we developed this product."
Attendees visiting the Newcastle Booth (#4168) or the seminar will not only see demonstrations of the new products, but also:

Learn how mobile power technology can significantly increase speed and throughput while reducing labor costs in receiving, picking, shipping, and inventory management processes
See real-case examples (with compelling quantitative data) where mobile power has been effectively implemented in the warehouse
Review justification tools to make a case and get buy-in from IT and management
Add the seminar to your calendar or request a private meeting with a Newcastle productivity expert at the PROMAT show here.
About Newcastle Systems
Newcastle Systems is an innovator of workplace mobility solutions for many of the world's leading retail and operations companies. As the leading provider of Mobile Workplace© solutions, Newcastle Systems provides the means to dramatically improve employee and facility productivity without major changes to your infrastructure, software or processes. A Newcastle Systems' Mobile Workplace© facility requires less equipment and less power to do the same work as a standard workplace configuration.
We are a "Customer-First" Business whose philosophy is "Provide innovative solutions that make equipment more mobile and information more readily available across an entire enterprise. Period."
We are strong believers that the only way to be successful is to listen to what our customers have to say.
For more information: Please visit our website at http://www.newcastlesys.com or direct inquiries to us by phone at 781-935-3450 or by e-mail at sales(at)newcastlesys(dot)com.