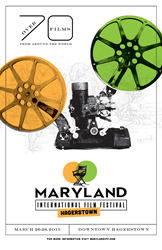 Festival Executive Director, Tracie Hovey said, "We are incredibly thankful for all the community support that we continue to receive and look forward to another successful festival!"
(Hagerstown, MD)
(PRWEB) February 24, 2015 -- The fourth annual Maryland International Film Festival, Hagerstown has received over 250 submissions, and the judges have announced the selections. Over 70 films will be shown in Hagerstown during the festival from March 26-28.
The festival Executive Director, Tracie Hovey said, "We have really grown this year and we're very excited to see the filmmaker talent. The board is anticipating a sensational event that will be well attended. We are incredibly thankful for all the community support that we continue to receive and look forward to another successful festival!"
The Maryland International Film Festival, Hagerstown (MDIFF-H) is scheduled to run March 26-28, 2015 and will be screening more than 70 films from around the globe. Several world premieres will be screened, including two major features In God We Trust and Writer's Cramp.
The festival has grown. Tom Riford, MDIFF-H President said, "We have added a fourth venue this year, with films being shown in the Downtown Hagerstown branch of the Washington County Free Library, along with the other three theaters. We are proud to be able to keep the festival in venues in downtown Hagerstown. We want visitors to see Hagerstown and give them a reason to return. Offering the screenings downtown will encourage festival attendees to explore all Hagerstown has to offer."
Opening night Thursday March 26 is at the Historic Maryland Theatre. Other venues on Friday and Saturday March 27 and 28 include the Academy Theater and the Bridge of Life Center, along with the Washington County Free Library Fletcher Branch.
Tickets are now on sale, through the Maryland Theatre box office, and also online at http://www.marylandiff.com. The best deal is the all-festival pass!
Films include documentaries, short, animated films, features and student films. New this year for the high school student films, MDIFF-H has asked that participating students include a Maryland landmark while shooting their scenes as part of the contest. Several films have been submitted.
Filmmakers and film lovers are coming from around the world to experience the festival! Tracie Hovey said, "We have film makers from Canada, New Zealand, California, New York, Florida, throughout the Mid-Atlantic, and from many other places. We are pleased to welcome again the award-winning Joe Carnahan who will be screening his new film 'Stretch' on opening night! Carnahan is the director of producer of several major films and television projects, including 'Blacklist' and 'State of Affairs.'"
The 2015 Board Members are as follows: Tom Riford, Tracie Hovey, Heather Guessford, Mary Anne Burke, Bob Bruchey, Bev David, Joseph Marschner, Dan Poyner, Karen Giffin, and Francine Donachie. Hollywood Director Joe Carnahan is the Creative Director. Sponsors include the City of Hagerstown, Washington County, the Hagerstown-Washington County Convention and Visitors Bureau, Volvo Powertrain, Columbia Bank-Hagerstown Trust Division, Northwestern Mutual, Big Cork Winery, Ovation PR & Advertising, Kaplan University, Hagerstown Community College, Tom Riford, and Jay Frantz.
The MDIFF-H mission is to be a platform for independent filmmakers to engage audiences, collaborate with other filmmakers and educate the community with the celebration of film. For more information about MDIFF-H, and venues and times, see: http://www.marylandiff.com.