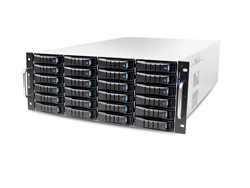 "We want to be able to help our customers in every way we can. By coming out with the T Series storage server chassis, we help cut down the time and efforts spent on integration and maintenance." says AIC's Executive VP, Hank Lu.
City of Industry, CA (PRWEB) February 26, 2015
AIC, a leading provider of standard and custom rackmount storage and server solutions, is now offering a series of storage server chassis which are designed to save installation and maintenance time. With most of the parts tool-less, system integration and future service can be done faster and with more ease. When the time associated with those practices is significantly decreased, costs are saved in turn.
The tool-less design features can be found in drive carriers, top covers, slide rails and backplanes. Compared to the non-tool-less drive, around 35 seconds of time can be saved on installation of a drive as it takes less than 5 seconds to position a drive to the tool-less drive carrier. In the case of fully populating RSC-4ET, a 4U 24-Bay storage server chassis with drives, a total of 14 minutes integration time can be cut down. For businesses that perform integration and maintenance on a large scale, saving time equals saving costs. Considering different needs, screw holes for both 3.5" and 2.5" drives are reserved on the drive carriers, giving users the options to secure 3.5" drives with screws or mount 2.5" drives to the 3.5" drive carriers. Same can be said about the tool-less top covers, slide rails and backplanes. Service can be completed without the use of tools – this not only saves on time but also avoid the risks of dropping screws into the systems.
In addition to the tool-less features, each of the T Series storage server chassis comes with a SAS 12Gb/s backplane with an expander chip on board to provide high bandwidth at all times, making sure that there is no performance bottleneck which may severely inhibit productivity. The inclusion of the expander chip on the backplane was a calculated move to allow users to maintain all drives with a lower port count HBA or RAID controller. As a result, businesses can save on overall costs.
Last, but not least, all T Series storage server chassis are equipped with hot swap system fans to provide superior cooling. The fans are designed to minimize rotational vibrations to prevent potential issues.
The T Series product line encompasses three distinct models: the RSC-2ET, the RSC-3ET and the RSC-4ET. The main differences among these models are the overall dimensions of the chassis, the cooling capabilities, the power supply and the total number of available storage bays.
About AIC
AIC is a leading provider of both standard OTS (off-the-shelf) and OEM/ODM server and storage solutions. With expert in-house design, manufacturing and validation capabilities, AIC's broad selection of products are highly flexible and configurable to any form factor, standard or custom. AIC leads the industry with nearly 20 years of experience in mechanical, electronic, system-level engineering as well as a dedication to innovation and customer satisfaction. Headquartered in Taiwan, AIC has offices and operations throughout the United States, Asia and Europe.